I had a wonderful time last night pouring some great wines for a really good cause. Just as I did last October, I spent yesterday evening pouring a selection of wines generously donated by Brian Loring for a dinner and auction benefitting the
Crittendon Children's Center
. Last year Brian
donated
a case of Chardonnay and Pinot Noir to pour for the guests to enjoy as well as a case of Pinot Noir to the auction. This year Brian enticed us by sending 6 bottles each of two different Chardonnays and Pinot Noirs as well as an additional case (Clos Pepe Vineyard Pinot Noir) for the Auction.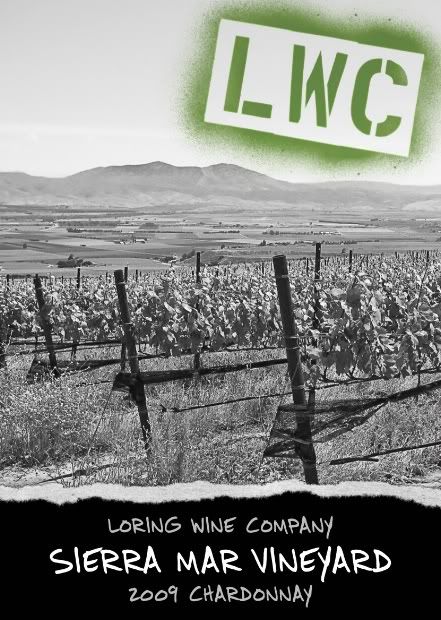 The first white I dove into was the
2010 Loring Wine Company Sierra Mar Vineyard Chardonnay, Santa Lucia Highlands
. I found this wine to be very consistent with the note from the 2009 vintage of the same wine I poured last year. Once again, unapologetically rich and luxurious with notes of lemon curd, butter and nutmeg on the nose and a spicy, toasty palate. The unctuous palate is lifted by cleansing acidity that kicks in on the finish.
Is it possible that the
2010 Loring Wine Company Durell Vineyard Chardonnay, Sonoma Coast
is even richer and more powerful than the Sierra Mar? You bet it is! In addition to the heavy toast and roasted nut aromas, this wine shows decadent tropical pineapple/mango fruit on the nose and palate. The pleasantly bitter finish is a nice counterpoint to the sweet fruit. Simply amazing. Some might recoil in horror at Loring's philosophy of going back to that "bigger is better" style of Chardonnay that ruled the 90s, but I applaud it. There are plenty of Rieslings, Sauvignon Blancs, unoaked Chards, etc. out there if I want something light and crisp. I'm glad Loring's wines are available when I want a big, buttery white to go with something like scallops or crabackes.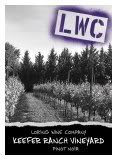 The first of the two reds I tried was the
2009 Loring Wine Company Keefer Ranch Pinot Noir, Green Valley/Russian River Valley
.The more elegant of the two Pinots, the nose on this deeply colored wine was full of smokey cherry fruit and a hint of sweet herb (think: rosemary, lavender). Typical of the Loring style, this is a medium-full bodied Pinot with great structure and a long, acidic finish. Of the Loring wines poured at the event, this is the only one available in Kansas and it retails for $49.99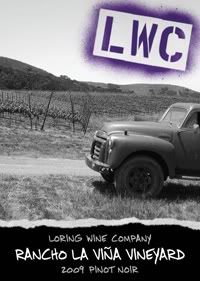 The final offering was the
2009 Loring Wine Company Rancho La Vina Pinot Noir, Santa Rita Hills
. This spicy, Zin-like Pinot was quite reminiscent of the
08 Loring Russell Family Vineyard Pinot
(from Paso Robles) that I poured last year. This wine holds nothing back with its saturated blueberry and sweet cherry fruit and black pepper notes on the nose and palate. It's very tannic for a Pinot Noir with additional notes of oak and dust on the palate and a long, dry cocoa finish. As delicious as it is atypical.
Since I was pouring the entire time I didn't really get to see what other wineries (many from Kansas and Missouri) and distributors were pouring, but I can't possibly convey the number of people I had come up asking for second, third and even fourth pours of Loring's wines. Overall, the comments were very favorable and I had dozens of people tell me that these were the best wines featured at the event. Funny, I heard a lot of the same thing last year! Thanks to
Brian Loring
for making such delicious wines and being so charitible with his product. I hope the case of Clos Pepe fetched an appropriate amount at auction.