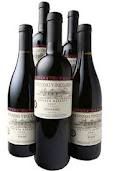 Some sage wine blogger once said "Happiness is receiving your semi-annual wine shipment from
Dunning
Vineyards." Okay, that guy was me. And I think I said it last year. But I meant every word of it. And I was thrilled to see that brown cardboard box show up late last week. Now I'm not a huge believer in concepts like "dumb phases" and "bottle shock" but I did want to give the wine a few days to settle down just in case there was any sediment that had been shaken up on the trip from Paso Robles to rural Kansas.
I managed to keep my hands off of the
2009 Dunning Vineyards Ridge Top Zinfandel, Paso Robles
until tonight. Of the three vintages of this wine I have had so far, this one is probably my favorite. This is a massive wine that just smacks you in the face with waves of blackberry, sweet cherry, black pepper and ungodly licorice notes. The palate is full-bodied with huge fruit and tannins and a long, powdery, dry cocoa finish. The whole package is encapsulated in slick French oak. Although the fruit shows phenomenal extraction, there's enough tannin and acidity in here to keep the wine from being sweet or flabby. Yes, the stated alcohol is 15.2% and it tastes like it. You got a problem with that? I don't. Seems like the sheet included with the order said this wine is about $28. Worth every penny...and then some.
If there's one little hidden gem of a winery that you've never heard of but should be buying from, this is it.
Consumed with a bowl of home made Italian-style meatballs with home made tomato sauce (tomatoes and peppers from our garden) and spaghetti. The fruit and licorice notes from the wine were amazing with the fennel seed in the meatballs and the acidity of the wine was a perfect partner to the acidity of the tomato sauce.