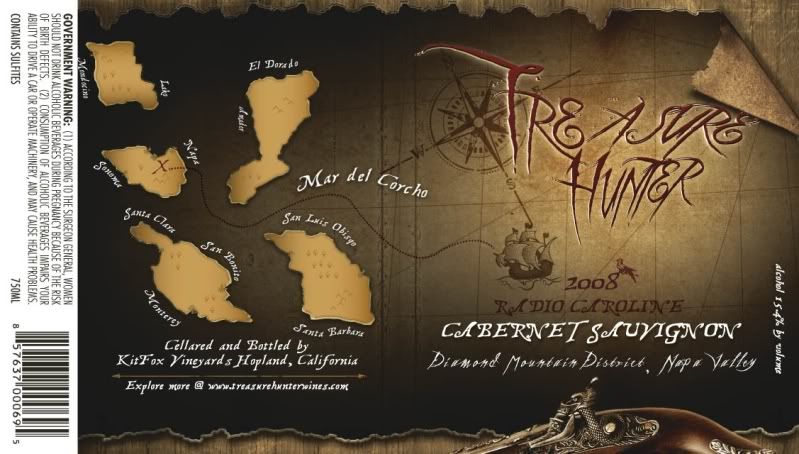 Okay, folks, I have to be honest here. When I saw this wine come into the store I was more than a bit hesitant. I've been a big fan of the monster Cabs from Napa Valley's Diamond Mountain District for some time now; particularly those from von Strasser. But most Cabernets from this notoriously rugged volcanic soil retail from $50 to well north of three digits. So I looked at this wine for a few days wondering to myself how on earth someone could possibly release a decent Cabernet Sauvignon from Diamond Mountain for a mere $25. This wine simply had to be either total plonk or one of the steals of the year....
Don't let the straight-out-of-
Pirates-of-the-Caribbean
label fool you. The
2008 Treasure Hunter

Radio Caroline

Cabernet Sauvignon, Diamond Mountain District
is a seriously good Cab-ARRGH-net Sauvignon. Jet black in color, the wine features aromas and flavors of tar, mineral, dry cocoa powder and rustic, briery black fruit. You can almost taste the rocky, volcanic soil the wines struggle to grow in. Fiercely tannic with screeching acidity, I have little doubt this wine could easily age a decade or longer.
Treasure Hunter is a negociant operation that cellars and bottles a myriad of wines including a number of Napa and Sonoma Cabernets, a Grenache from Santa Barbara, a couple of proprietary red blends and even an Alexander Valley Chardonnay. If all of their wines are as good as the
Radio Caroline
, then it is worth keeping an eye on this winery.