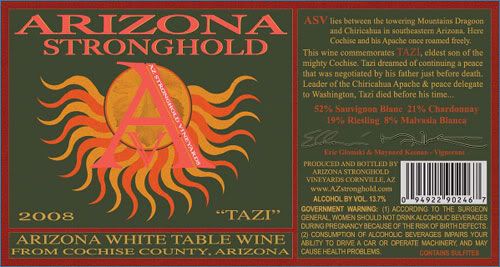 I've been drinking wine for a good 20 years now but this is quite possibly the first time I've ever had a wine from the Great State of Arizona. The
2008 Arizona Stronghold Tazi, Cochise County
is a blend of Sauvignon Blanc, Chardonnay, Riesling and Malvasia Bianca. The light golden color is hardly indicative of the wine's full body. The wine is rather dull and lifeless straight from the refrigerator but after half an hour or so it reveals layers of musty earth, stone fruit (think: ripe apricot), melon and smoke. The palate is rich and oily, but never turns heavy or ponderous. Seems a touch sulfuric. I'm struggling to find something to compare this to. Maybe a dry Alsatian Riesling? About $20
It isn't all that pleasant to consume on its own, but it really hit a home run with tonight's improvised dinner of pork tenderloin/red potato/yellow pear tomatoes and a salad of garden fresh arugula, tomatoes and goat cheese tossed in a balsamic vinaigrette. The earthiness of the wine works particularly well with the potato hash while the acidity nicely balances the salad. Quite the interesting, complex wine. If this is any indication of Arizona's potential, then it's a state whose wine industry warrants attention.
I can also highly recommend the Merkin
Chupacabra
Cabernet/Syrah blend (sourced from California fruit) from the same ownership/winemaking team.