My wife volunteered to coordinate lunch for our daughters' elementary school teachers tomorrow and we decided that smoked pork shoulder would be pretty easy for 50 people. I generally dig Costco, but one of my few complaints about the store is the fact that they sell their pork shoulders with the bone removed. You lose a lot of flavor that way; not to mention you have to truss the damn things so they'll keep a uniform shape on the grill/smoker. Anyway.....I started off by rubbing down about 25 pounds of boneless pork shoulder with yellow mustard and a hodgepodge of seasonings.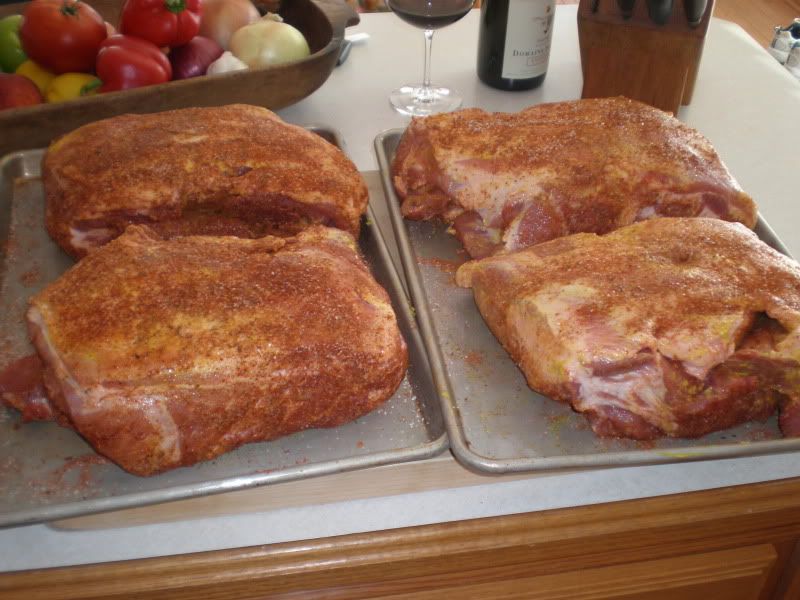 I'm not one of those blowhards who has a "secret rub." At this point, my jar of generic
BBQ spice
is probably a combination of 5-6 different commercial rubs. Whenever the jar gets low, I grab something off a grocery store shelf or whatever looks good at Penzey's and top up my old mason jar. Good old yellow mustard is common to those familiar with Carolina/Southeastern BBQ. It doesn't impart any mustard flavor, but it helps the spice rub adhere and creates a nice bark.
I've never attempted to smoke this much pork at once and I had doubts as to whether my 22.5" Weber Kettle would hold all that meat, but it all just barely fit. I lined up the meat in the middle and kept the charcoal and apple wood on the sides. Indirect heat is what it's all about. Every hour or so, it's necessary to add a handful of briquettes and a little more soaked apple chunks. Here it is after a couple of hours:
BBQ purists my recoil in horror at my technique, but I've always had amazing results with it. After 3 hours or so on the smoke, I take the pork off, seal it up tight in foil and finish it in a low oven. It usually takes another 3-4 hours until it hits that magic 190 degree internal temperature where it shreds or "pulls" effortlessly with two forks. My reasoning behind this is three-fold:
1) A piece of meat will only absorb a finite amount of smoke. After the smoke ring forms, it's a simple matter of slowly bringing the internal temperature up to 190 degrees.
2) It's much easier to finish it in an oven where you don't have to monitor airflow or temperature.
3) It is literally impossible to dry the meat out this way. I've had very good success smoking the meat start-finish on the grill, but I've also had rare instances of drying the meat out. I've never had dry meat using the oven technique.
Here's the more-or-less finished product. I plunged a fork into the shoulder on the left. The pictures don't really do it justice, but you can make out the pink "smoke ring" and notice the texture: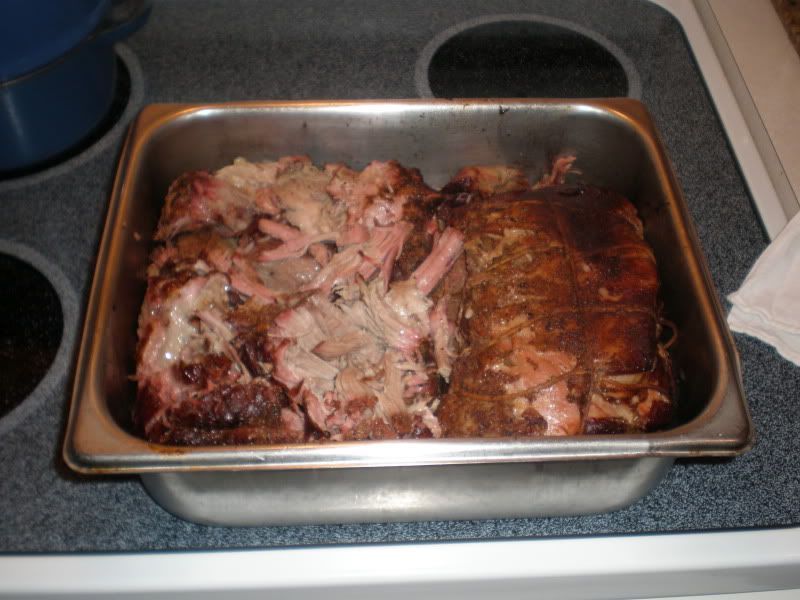 I just wish I could have everyone over to taste it! It's quite delicious, if I must say so myself. Hopefully, the teachers will leave enough for us to have a couple of sandwiches for dinner tomorrow night. Wine recommendation would be a Syrah, Grenache or Zinfandel from Paso Robles. Sorry, but I'm not looking for acidic old world wines with their herbs and earth when BBQ is on my plate. I want that lusty black fruit and spice that you can only get from California's Central Coast!
Enough about the teachers' meal. After I got the pork on the grill, I turned my attention to making some tuna tartare for us for tonight's dinner. I know tuna tartare is kind of "5 years ago" with regards to the restaurant scene, but I still really enjoy it. It's so flavorful and delicious, I sometimes ask myself why I ever bother cooking tuna any more.
My tuna tartare recipe is pretty simple. I don't ever measure anything; preferring instead to taste as I go and make adjustments as necessary. But the basic list of ingredients looks something like this:
2-3 tuna steaks cut into 1/4" dice
zest of one orange
2-3 tablespoons chopped fresh cilantro
2-3 tablespoons minced red onion
1-2 cloves garlic, grated
Sambal Oelek (Vietnamese chili-garlic paste), to taste
mushroom-infused soy sauce, to taste
Just carefully mix everything until it's thoroughly combined. Don't get too aggressive or the tuna will become mushy. And it's best to work with really cold (even semi-frozen) tuna. I like to allow the tartare to sit in the refrigerator for an hour or so as it lets the flavors combine. Serve with crackers, pita chips or just dig in with a spoon!
You want a wine recommendation? I think Champagne is wonderful with tuna tartare. I also like a fragrant Pinot Gris or Riesling with it. But if it's my choice, I'm grabbing a dry rose like tonight's
2009 Chateau Routas

Rouviere

, Coteaux Varois en Provence
. The wine's bright red berry aromas and flavors and wonderful citrus acidity is the perfect marriage with the tuna.