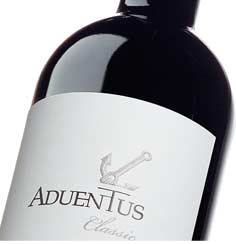 You ever have one of those meals when everything was working? The food is perfectly flavored and perfectly cooked. The wine is firing on all cylinders. And best yet, the wine and food are working in harmony to make one another better. I've been blessed to have more than my fair share of those meals. But unfortunately, tonight wasn't one of those. The steaks were fatty (even for rib eye), I scorched the leftover braised Brussel sprouts I was attempting to re-heat and the wine just wasn't working for me.
I would expect a young Argentinian blend of Malbec, Syrah and Tempranillo to be bursting with bright fruit and spice, but I fear the muted flavors and aromas of this bottle were caused by a mild case of cork taint. This particular bottle of
2006 Antigal Aduentus Mediterraneo, Mendoza
shows a nice, dark garnet color. There's a healthy dose of black pepper and blackberry syrup in the nose, but it's hiding behind a wall of musty, dank aromas. Nice sweet/tart blackberry flavors on the palate and nice balance of acidity and dusty tannins. But overall, the experience was really tempered by the tainted cork. This one will have to be revisited.