I had the privilege of tasting the eclectic wines of
Alpha Box and Dice
with winemaker Justin Lane last night. Undeniably one of the most promising young winemakers in Australia, Lane is experimenting with a lot of varietals and blends very uncommon down under - grapes like Durif (Petite Sirah), Sangiovese, Dolcetto, Nebbiolo and Tannat. Also of note is the use of French oak as well as American oak from an unlikely source; Minnesota.
The first wine of the night immediately signaled to me that I was in for a special evening. The
2008 Alpha Box and Dice

Dead Winemaker's Society

, Adelaide Hills
is a varietal Dolcetto that shows a bright ruby color and reveals layers of red licorice, hickory smoke, mint and sweet/tart cherry on the nose. Cherry and cranberry fruit dominate the palate punctuated with moderate tannins and high acidity. Should be an amazing wine with food. $24
Next up was a most interesting blend of three varietals known for their tannins. The
2006 Alpha Box and Dice

F is for Fog

, McLaren Vale
is a blend of 80% Nebbiolo, 10% Cabernet Sauvignon and 10% Tannat. Perhaps the most captivating nose of the evening with strawberry/raspberry fruit and Nebbiolo's trademark tar and roses. Slight oxidation adds a level of interest as does the citrus/Bourbon flavor on the palate. And yes, the tannins are there in full force. $30
I suppose it was inevitable that there was one I didn't particularly care for and that being the case, the
2006 Alpha Box and Dice

Blood of Jupiter

, McLaren Vale
would be the one. I don't have the winemaker's technical notes for this Sangiovese/Cabernet Sauvignon blend, but the strong Bourbon/dill nose suggests to me that this wine was probably aged in the aforementioned Minnesota oak. Eventually reveals some floral notes as well as hints of licorice and rosemary/herb. But the nose is a bit hard to get past. $30
The
2008 Alpha Box and Dice

Apostle

, South Australia
is a blend of Shiraz and Durif that immediately brought to mind the great wines of the Northern Rhone. Aged in 20% new French oak, the nose is a complex stew of smoke, toast, cured meat and white pepper. It is very smooth on the palate with notes of vanilla, sweet herbs (thyme, herbs de Provence) and more white pepper. Worth every penny of $40.
Lane was kind enough to bring with him two wines which have not been released in this country yet. These wines are supposed to be available here in November and I'm very excited about both of them.
The
2008 Alpha Box and Dice

Tarot

, McLaren Vale
is perhaps the greatest wine I have ever tasted that is slotted to retail in the $10-12 range. I'm serious when I say back up the truck and buy every bottle you see of this stuff. The laser beam of sweet raspberry and vanilla/cheesecake is the purest expression of varietal Grenache I have ever had. Simply stunning and a ridiculous value. Lane told me he was recently offered a contract on the fruit from this vineyard; fruit that used to go into a blend made by an undisclosed "high end" winery. I told him he could get $30 for this and he agreed, but sheepishly told me he would feel guilty doing so. You have to appreciate that level of honesty and integrity.
Similar in style, yet a level deeper than the Grenache is the
2009 Alpha Box and Dice

Enigma

, McLaren Vale
. The unlikely combination of Barbera and Cabernet Sauvignon team up to provide a nose of sweet red fruit that goes back and forth between cherry and red raspberry. The palate is thick with smoke and earthy raspberry favors. The considerable acid and tannin lead me to think this will be very food-friendly. No price was mentioned for this one, but I suspect it will retail in the $25 range.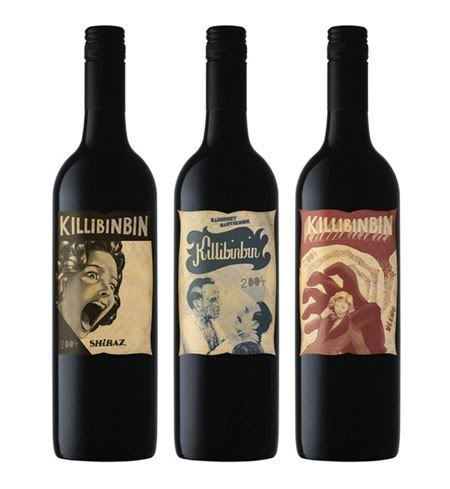 In addition to his duties at Alpha Box and Dice, Lane also spends one day a week doing consulting work for
Killibinbin
. These wines hail from one of Australia's cooler climates and show great restraint and offer very good value in the mid-$20 range. I am not sure how much is currently available here.
2006 Killibinbin

Blend

Shiraz/Cabernet Sauvignon, Langhorne Creek
- Very rustic and dusty with hints of Asian spices, pepper, licorice, floral and berries. Aged in French and American oak with the American oak dominating at this stage.
2007 Killibinbin Shiraz, Langhorne Creek
- Pure red fruit nose that eventually shows notes of cured meat and restrained oak. Quite thick on the palate with a long, dusty finish.
2007 Killibinbin Cabernet Sauvignon, Langhorne Creek
- Classic cool climate aromas of bell pepper, black olive and monster eucalyptus. Big tannins on the palate with flavors of black olive and sweet berries. My favorite of the Killibinbin selections.
I've been fortunate to have attended a number of really nice wine tastings since coming on board (about a year ago) with Off the Vine Design and this one is one of the 2 or 3 true stand-outs. I really loved these wines and admire the job Justin Lane is doing with some rather obscure varietals, fresh blends and a unique oak management program. I look forward to following this wine for a long time to come....