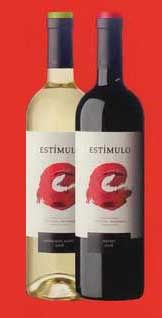 According to the back label,
estimulo
is the Spanish word for stimulus or something that arouses ones interest, enthusiasm or excitement. After having most of a bottle of
2008 Estimulo Cabernet Sauvignon, Mendoza
over dinner, I have to say that I agree with the wine's name. Is this a great wine? No. Not even close. But for $10, it seriously over-delivers in terms of body and flavor. Pretty blackberry and boysenberry flavors and enough of that green peppercorn/spice component that lets you know it's from Argentina. Quite nice with grilled chicken thighs with charmoula; a zesty Middle Eastern sauce.
Charmoula Sauce
1 tablespoon toasted cumin seeds, ground
1 1/2 cups Italian parsley
1/2 cup cilantro
2 large cloves garlic
1 tablespoon smoked paprika
1 teaspoon kosher salt
1/4 teaspoon cayenne pepper
6 tablespoons EVOO
1 tablespoon fresh lemon juice
Place all ingredients in food processor and blend into coarse paste. You may want to add more olive oil to achieve desired consistency.