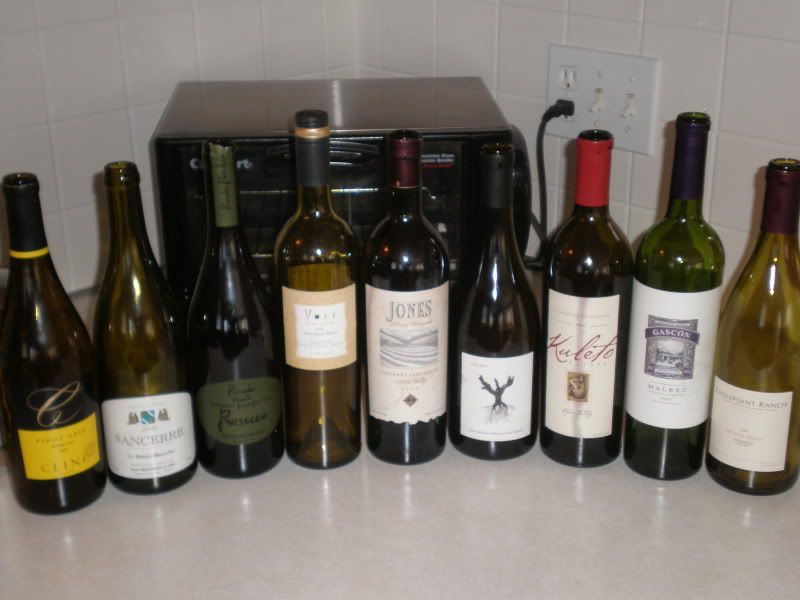 Well, I'm finally getting around to putting some stuff up about the wines we enjoyed over Labor Day weekend with some good friends who came over for the night.
My wife and I opened a
2009 Cline Pinot Gris, Sonoma Coast
while we were waiting for our friends to arrive. What a delicious wine this is. Love the old school color with the slightly brassy hue. Although this wine is done 100% in stainless steel, it has a certain leesy richness that plays well with the citrus fruit and acidity. Great bargain at $10 or so.
One of the whites our friends brought was the
2008 Jean Reverdy

La Reinie Blanch

, Sancerre
. Not quite as intense as I thought it would be, but it still showed some nice wet stone/mineral flavors and a hint of bell pepper.
The next thing out of our friends' case was the
NV Riondo Prosecco, Veneto
. I really dig this stuff. Slightly effervescent with a hint of sweetness and some delicious apple and pear flavors. A great way to satisfy a craving for bubbles without dropping $50 on a bottle of Champagne.
The
2007 Voss Sauvignon Blanc, Napa Valley
was everything I remembered '96-'97-'98 vintages of this bottle being when I drank a good bit of it a decade ago. This is Sauvignon Blanc the way I like it best - juicy with sweet grapefruit and peach fruit.
Dinner was a standing rib roast that I rotisseried over charcoal and hickory chunks. Simple and delicious, it was a nice piece of meat to accompany a number of red wines.
A wine with which I was not familiar (but will purchase in the future) was the
2005 Kuleto Cabernet Sauvignon, Napa Valley
. Tons of black olive and dark, rustic fruits in this bottle with modest tannins that suggest drinking over the next 10 years or so. Nice bottle for a very reasonable $35 or so.
The wine I was most looking forward to this evening was the
2007 Dominio de Pingus

Psi

, Ribera del Duero
. Yes, I know it is only the third wine from this legendary producer, but I was still pretty excited about it. Unfortunately, it was a massive disappointment. I got nothing from this wine except for loads and loads of new American oak. The kind of cheap oak that makes your wine glass smell like a Bourbon on the rocks. The next morning, I noted that only about half of this wine had been consumed. Thinking it might have opened up with 12 hours of air, I tried it again and it was still just monolithic and unexciting. No fruit. No earth. No licorice. There's just no "there" there. A disappointing $35 expense.
Next we opened our friends' final bottle of
1996 Jones Family Cabernet Sauvignon, Napa Valley
. This is a wine that we bought back in the '96 and '97 vintages. This was the first wine I remember being really hyped and driven by internet discussion and my friend and I both fell for the hype. And boy am I glad we did! This was showing really well right now. Really pretty 15-year old California Cabernet flavors of cherry and cigar box. The tannins were well-balanced and I think this is about as good as it will get. I think we paid about $60/bottle back in the day but dropped off the mailing list when the '98 was offered at $75 or so. Oh, well. I'm glad I tried the first two vintages of this wine and I'm glad I've still got a bottle or two in the cellar.
On Sunday, my wife and I enjoyed the
2009 Gascon Malbec, Mendoza
with some grilled double lamb chops. This wine is like slipping on an old pair of jeans - comfortable and familiar. I've been enjoying this wine for it's dark fruit and spice for the past 3-4 vintages. Great value at $10-12.
Having drained the Gascon, we needed one more bottle to wash down our lamb chops. So I reached for something I hoped would pair well with the spice rub and char. That wine was the
2005 Eaglepoint Ranch Petit Sirah, Mendocino County
. This wine a really tannic, rustic beast and the perfect wine for the meal. I've tried pairing this with smoked pork shoulder and a few other meats, but I think this was the most successful pairing to date.