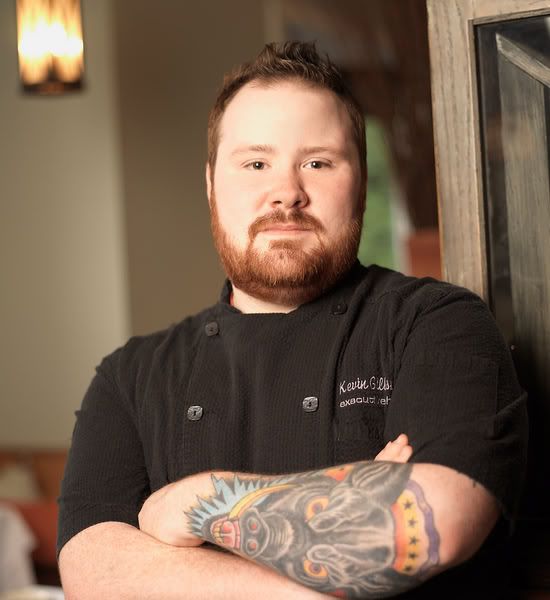 Our final night over Christmas break in Atlanta was spent dining at
Woodfire Grill
. We made these reservations months ago; as soon as we knew we would be spending the holidays in metro Atlanta. The executive chef at Woodfire Grill is Kevin Gillespie; famous for being a finalist on Bravo's
Top Chef
reality show. What an amazing meal we were treated to!
Dining with a few members f my wife's family, we started off with a bottle of the
NV Luis De Grenelle brut rose, Saumur
. Sparkling wine made from 100% Cabernet Franc from France's Loire Valley, this was a bit too herbal for my palate. But it was a decent enough starter.
Right after we were seated, the staff brought us an
amuse bouche
consisting of radish, whipped butter, celery and fresh taragon. I'm not a huge fan of raw celery (okay, I
hate
it) but this was quite light and refreshing. And it paired nicely with the last sips of our rose sparkler.
The first course of the 5-course chef's tasting menu was a salad of razor-thin shaved fennel, citrus fruits, pomegranate seed and tahini sauce. I've had numerous fennel/citrus salads before, but what really made this one special was the creamy tahini that provided a perfect balance to the tart citrus. It was expertly paired with the
2009 Champ du Roy

Blanc de Coupe Roses

, Cotes de Brian AOC
; a minerally blend of Viognier, Muscat, Grenache Blanc and Marsanne.
Since I am allergic to shellfish, I was presented with a plate of chestnut flour hushpuppies while the rest of the party enjoyed a seared day boat diver scallop. This was paired with the rich, butterscotchy
2008 Terredora Dipaolo

Loggia Della Serra

Greco di Tufo DOCG
. I'm not sure exactly how good hushpuppies can be, but these were pretty damn tasty. Everyone else at the table agreed that the scallop was the best that they had ever had.
Next came one of the most amazing small tastes that I have ever had the pleasure of experiencing. The warm potato and white truffle soup with black malt powder and fresh chives is presented in a shot glass and paired with the ubiquitous
NV Veuve Cliquot brut, Champagne
. Although the Champagne was strangely oxidized, but potato soup was, in a word, sublime. Words really can't describe the silky richness and deep, earthy flavors. I'm not ashamed to admit to taking a butter knife to my shot glass and scraping out the very last small drops! A truly amazing moment.
The first meat course was the breast of local bobwhite quail (grilled over wood, of course) with dried cranberries, roasted cauliflower and sunchokes. A streak of "liquid sweet potato pie" adorns the plate and balances the salty, smoky game. This course was matched with the
2008 Jean Francois Merieau Gamay, Touraine, AOC
. This Gamay had an herbal pepperiness that spoke of Touraine, yet retained a lot of the bright raspberry/cherry fruit that one would expect from a Gamay from Beaujolais. A very nice pairing with the quail.
When we made reservations at Woodfire almost nine months ago, I was just hoping for one thing: a chance to try pork belly prepared by Kevin Gillespie. I had seen him do pork belly a few times on
Top Chef
and this is the one thing I really,
really
wanted out of my experience at Woodfire. And the fourth course did not disappoint. It was smoked belly and loin of Berkshire pork served with farro risotto and a smoked onion vinaigrette. Of all the things I've had to eat over the past 41+ years, I think this ranks at the very top of the pyramid. The belly was so incredibly tender and rich that a 2" cube was more than enough. I'm not sure exactly how Gillespie accomplishes this texture, but I suspect it is smoked and braised before being seared just before service. Something that simply must be tasted to be believed. The ever-faithful
2009 Bodegas Borsao

Tres Picos

Garnacha, Campo de Borja DO
displayed all of the beautiful raspberry and vanilla flavors that I've come to expect from this wine. Another very nice pairing.
To be honest, I thought the dessert course was something of a throwaway. The maple mascarpone and chocolate sorbet were tasty enough, but they were sadly overpowered by a dense chocolate graham cracker crust. A small glass of the delicious
Quady

Elysium

Black Muscat, California
would have probably been enough for dessert.
As great as the food was, I have to say I was a bit disappointed by the service. It seems like we had a different team of servers present each course to us. And one more than one occasion a server would have to go back to the kitchen to get the details of a dish or answer a question we had about it. (That being said, I appreciate that more than a server who makes up a lie to cover for his lack of knowledge of a dish.) And the server who poured the wines for us made numerous factual errors in presenting the wines. He gave us the wrong blend of the Champ du Roy, told us about the "great" 2010 Beaujolais Nouveau rather than mentioning anything about Gamay grown in the Loire, didn't know the grape that goes into Greco di Tufo wines (hint: Greco is the grape and the name of the region), etc. Yes, I understand that 99% of the people dining there probably don't care about stuff like that, but as a wine geek, I appreciate the attention to detail.
Overall, I would give the food here 5 stars (out of 5) and the service 3.5 stars. I highly recommend reservations here if you are in the Atlanta area. And I don't think $90/person for a 5-course meal and 5 glasses of wine is outrageous for this kind of quality and originality.