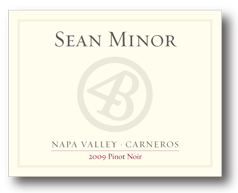 The
2009 Sean Minor

Four Bears

Pinot Noir, Carneros
is just another in a long line of unbelievable values from this producer. Pretty, clear ruby-magenta color. In addition to the black cherry and vanilla, the nose reveals a note of sweet herb (thyme, lavender) that I have not noticed in previous vintages. Subtle usage of French oak is appreciated. On the palate, it is medium-bodied by Pinot Noir standards with beautiful berry flavors and tangy acidity that makes you crave the next sip. Moderate tannins and a charred note on the finish. Amazing Pinot Noir for $15.
I'm quickly running out of superlatives for this, my favorite value brand in all of California. I cut my teeth on wine in the early-90s when $15 would buy a solid bottle of Cabernet from Markham, Chateau Souverain or Beringer. It's nice to see someone still making quality for for the same price nearly 20 years later.
I would love to see what he could do with some Zinfandel, Syrah or Grenache....