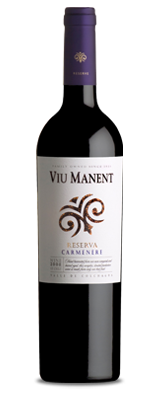 Carmenere is a grape that was one widely planted in Bordeaux. But due to disease and ripening issues, it is no longer found in the Medoc. But it thrives in Chile today where it is used in red wine blends as well as varietal bottlings. I don't claim to have a whole lot of experience with this grape, but the ones I've had have mostly left me rather unimpressed. Not surprisingly, this example fared no better.
The
2008 Viu Manet Reserva Carmenere, Colchagua Valley
has a pretty, medium crimson color. Very reminiscent of a Chilean Merlot, the nose features aromas of green tobacco, bay leaf and tart red fruit. The palate is dusty and tannic with tart red fruit, tobacco, sage and hickory flavors. Although this wine may appeal to fans of "value" Bordeaux and Merlot, it is just too unripe and green for my palate. I would recommend drinking this now; assuming of course, this is a flavor profile that you enjoy.
That being said, it may do a fine job of accompanying something like stuffed peppers, fish
coubillion
, fajitas or another dish featuring bell peppers