I had the day off today so, after doing some chicken coop cleaning duties, I had plenty of time to smoke a rack of babyback ribs for dinner. With smoky, spicy foods, I always reach for a big, fat California Syrah or Rhone-style blend and tonight I was inspired to open the last of my
2003 Terry Hoage Vineyards

The Hedge

Syrah, Paso Robles
. I've been following Terry's Central Coast efforts since he was supplying grapes for Mat Garretson's
Bulladoir
Syrah. This particular bottle is inky-black and cloudy (obviously unfiltered) with notes of blackberry, mulling spices, French oak and considerable alcohol on the nose. The palate is dominated by murky berries, pencil lead and the aforementioned mulling spices. Very low acid. Tannins suggest aging a few more years, but I wonder if there will be any fruit/acid left. Perfect pairing with the BBQ ribs. About $30 upon release.
As nice as this wine was with the food, it reinforces my notion that these wines are not built to age. Enjoy these Central Coast Syrahs in their youth for all their glorious fruit, spice and tannins, but drink them up young with appropriate cuisine.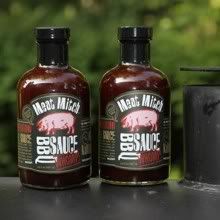 After removing the membrane I rubbed the ribs down with a home made rub and smoked them over a combination of hickory and apple wood for about three hours. At the table, I hit them with a little bit of Meat Mitch
Whomp!
BBQ Sauce. This was from a sample bottle that was dropped off at work last week. It's very sugary sweet with upfront cherry/raspberry fruit that quickly turns very spicy and peppery. Too spicy for my kids, but just right for me. Really needs one of these fruit-forward Paso Robles wines to balance that heat.