I got an e-mail yesterday announcing that Off the Vine, the wine retail store where I worked from 2009-2012 is closing sometime in the next few weeks. The owners have been presented with a wonderful new wine-related business opportunity in Colorado and I wish them nothing but the nest of luck. I know they will love it there. To clear their inventory, they are offering the remaining stock at a generous discount. So I was there when the store opened this morning to pick up a few cases; some known and others unknown.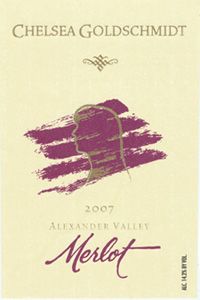 One of the "unknowns" I got this morning was the
2011 Chelsea Goldschmidt Merlot, Alexander Valley
. I opened it tonight with burgers off the grill and couldn't possibly have been more pleased. Wonderfully deep cranberry color could easily pass for a Cabernet. The nose seemingly reveals another aroma with each and every sniff. Plum, sweet cherry, coffee, licorice and toasty oak. Around the 1-hour mark the wine turns decidedly minty. Beautiful balance on the palate as well with coffee bean, charred oak, sweet cherry and considerably more tannin that I expected from a $16 California Merlot. Am I too excited about this wine? I really don't think so. Highly recommended.