Spent a relaxing Father's Day yesterday that began with a sweltering jog and ended with a feast fit for a king. Sandwiched in between was a couple of hours vegging on the couch watching the US Open and the NBA Finals (Go Spurs!). Dinner was a delicious venison stroganoff with wild mushrooms and home made creme fraiche.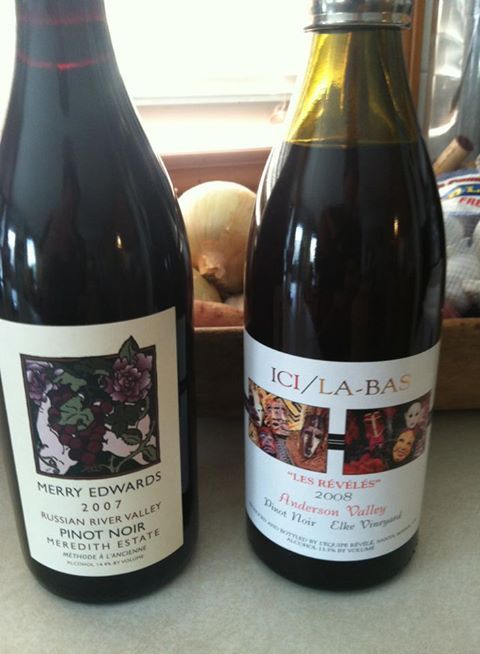 To go with the food, I chose two Pinots with a few years on them. First up was my father-in-law's contribution. The
2008 Ici/La-Bas Les Révélés Elke Vineyard Pinot Noir, Anderson Valley
has a faded color, odd since it is a year younger than the other wine on the table. Hi-toned floral notes lift the earthy, barnyardy nose. Not much fruit to celebrate here, but the earthy notes perfectly compliment the food. Unspectacular finish and a touch alcoholic for the stated 13.5%. About $40
I think the far better wine was the
2007 Merry Edwards Meredith Estate Pinot Noir, Russian River Valley.
Still featuring a super deep color, The nose is an insane melange of raspberry and freshly muddled mint leaves. Incredibly youthful fruit on the palate with hints of campfire/hickory wood. Rich and buttery, yet perfectly balanced. Tthe fruit preservation here is quite amazing. Juicy acidity. About $75
For dessert, my daughter made a delicious no-bake Key Lime cheesecake. With that, I opened my last bottle of
1996 Weingut Kurt Darting Durkheim Frohnof Scheurebe Trockenbeerenauslese, Pfalz
- Color of 20 year old tawny port. Thick and rich with nearly indescribably intense grapefruit and citrus notes on both the nose and palate. Quite sweet, but still plenty of acidity to keep everything perfectly balanced. But I would drink this sooner rather than later as the acid wasn't quite as electrifying as it was 10 years ago. A truly sublime pairing with the dessert.