2012 Seven Hills Pinot Gris, Oregon
- Pure golden color, no hint of orange. Lots of dry tropical fruit (pineapple, mango) and mineral notes in the nose. On the palate, lots of dry pineapple flavors, a certain mintiness and a very pleasant bitterness that provides balance. Doesn't really stand out in a sea of $12 Pinot Gris, but it's very pleasant and drinkable nonetheless. Consumed as an aperitif while the venison was on the rotisserie.
2007 Domaines Schlumberger Les Princes Abbés Gewurztraminer, Alsace
-Deep golden color. Absolutely insane aromatics of honeyed pineapple and peaches. Incredibly thick (and moderately sweet) on the palate with fruit cocktail notes and fantastic acidity. Makes me wish sauteed foie gras with an apricot jam reduction was on the menu tonight. But fantastic as an aperitif. Another ridiculous close-out purchase. $7.99, regularly $29.99.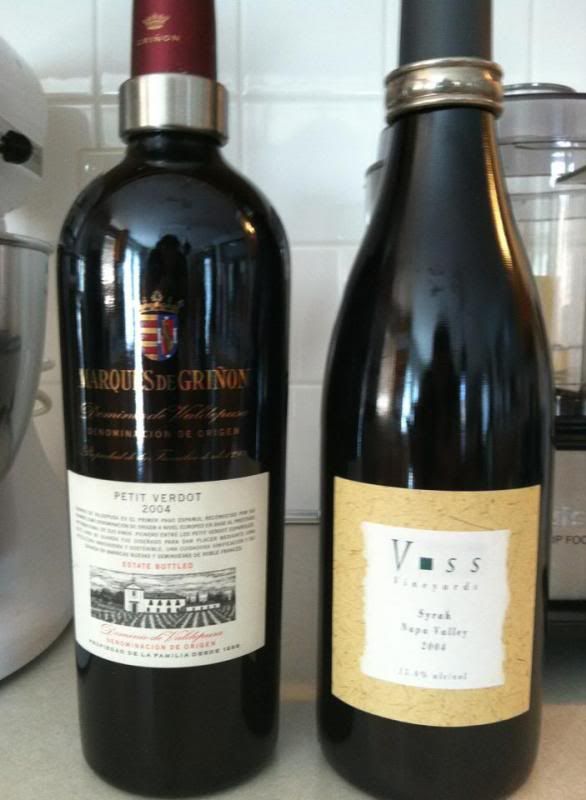 2004 Voss Vineyards Syrah, Napa Valley
- Still holding on remarkably well with a great, dark color and wonderful cherry, licorice and mocha notes on the nose and palate. Fruit, tannins and acidity are all in perfect harmony now. 15.0% alcohol doesn't seem to be intrusive. Wonderful with the rotisseried leg of lamb. There is a link to the winery here, but don't go there expecting to find any information on their Syrah. Sadly, Voss now only makes Sauvignon Blanc. Purchased on clearance for $5.99, regularly $25.99
2004 Maqrues de Griñon Petit Verdot, D.O. Dominio de Valdepusa
- I don't know how you feel about the varying degrees of a wine being corked, but for me it's an all or nothing kind of deal. The slightest hint of wet newspaper and I'm looking for a replacement bottle. My father-in-law thought it was a little "off" but still drinkable. I couldn't get past the nose. Not even worth the clearance price of $7.99 (regularly $39.99).
With the Petit Verdot being a bust, we opened the
2006 Ceja Vineyards Merlot, Carneros
. I don't recall having anything from this winery, but I was quite impressed with this one. Black cherry, chocolate, wintergreen and just a hint of bell pepper. The nose is quite captivating. Nice body and tannins for Merlot with a long, acidic finish. I wonder what this would have tasted like 3-4 years ago with a little more fruit in the glass. I'd take a pass at the normal price of $29.99, but it was a steal at the $6.99 clearance price. Truth be told, this would be a fine deal at $20.