My best friend in the world and his wife showed up for dinner last Saturday night and we sipped and slurped our way through three high profile Chateauneuf-du-Papes from great vintages and choked down some really disappointing lamb.
Sadly, I really dropped the ball on the lamb. I bought a boned leg of New Zealand lamb, removed the net and stuffed it with black pepper, fresh rosemary and chopped garlic. Then I put the net back on and smoked it for an hour or so over apple and cherry wood before slamming it in a low oven for a few hours. About an hour before our guests were due I started to panic and tried to braise some tenderness into the meat by way of a bath of simmering red wine and chicken stock; only achieving partial success. My wife and guests were gracious, but I could sense the disappointment in the dry, grainy meat.
Evaluating these wines was something of a roller coaster. I decanted each of them off of their sediment around 3 p.m. or so and immediately poured them back into their rinsed bottles where they sat until dinner time.
My notes in order of least favorite to most favorite: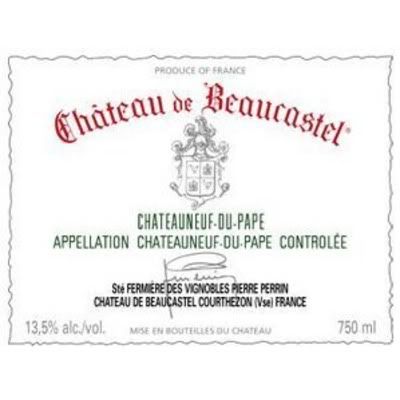 1995 Chateau de Beaucastel, AOC Chateauneuf-du-Pape
- Mourvedre-dominated blend manifests itself with a nose of worn saddle leather and the sweetest maraschino cherry. Color is definitely fading; showing an advanced brown color. Long, cherry-like finish. Sherried notes and resolved tannins lead me to believe this wine may be a touch over the hill - at least for my tastes.
1998 Chateau de Beaucastel, AOC Chateauneuf-du-Pape
- Asian-influenced notes of soy and mushroom. Color shows the same advanced brown tones as the 1995. Very smooth, polished tannins with a considerable hint of menthol on the nose and palate.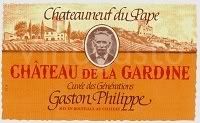 1995 Chateau de la Gardine Cuvee des Generations "Gaston Philippe", AOC Chateauneuf-du-Pape
- Easily my favorite wine of the evening and the favorite of our guests as well. Deepest color of the three wines. A bit cloudy, but that's probably my fault due my decanting technique. Deep black fruits and a Barolo-like nose of rose, tar and fennel. Touch of meat/sausage kicks in on the palate. Huge fruit and sandpaper-like tannins suggest this wine may benefit from additional aging. Finishes with a trace of Bourbon.
I was a bit surprised and disappointed by how the Beaucastels had faded. I purchased the 1998 at retail on release and stored it in proper conditions ever since. My friend bought the 1995
at the winery
and kept it in a 57 degree refrigerated wine cabinet since then. So storage was not an issue. Regardless, the Beaucastels were absolutely smoked by the Gardine "Generations."
And as bad as the lamb was on Saturday night, an additional hour of braising turned the leftovers into something absolutely marvelous for Sunday night's smorgasbord dinner. Guess my timing was just a bit off. I'll do better next time, A......