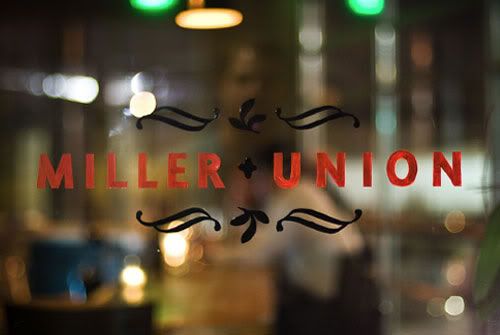 We rolled into Atlanta early yesterday afternoon to spend the week with my parents as well as decorating my wife's sister's nursery. Whenever we get together with my wife's sister and her husband, we always like to hit up a local dining hot spot or two. Last night we visited the highly-touted
Miller Union
.
We got there within a minute or so of our 7:30 reservation and were immediately taken to our seats. It's always nice to be seated promptly like that; particularly on a busy Saturday night. No milling around in the bar or any of that nonsense. Decor is minimalist (might even call it Spartan) with off white paint, simple table settings, rough-hewn wood trim and a couple of old hornet nests adorning the walls. Service was impeccable. I wish I remembered our server's name as he is well-deserving of a shout-out. Wine is served in Riedel clones made by Schott-Zwiesel. Proper service temperature and nice stemware is always appreciated.
For an appetizer, I chose the braised beef tongue with creamy grits and pickled green tomato. Having never had tongue, I really didn't know what to expect. My brother-in-law told he he got tongue from a taco truck in Los Angeles once and found it a little disturbing due to the texture of the taste buds. The tongue last night was expertly prepared and very reminiscent of liver, both in flavor and texture. Maybe like liver wrapped in a sausage casing? I didn't detect any taste buds and my brother-in-law said his bite was considerably better than his food truck experience. The diced green tomatoes provided a nice acidic balance to the dense, earthy tongue flavors and the microgreen garnish also provided a bit of lift. Unfortunately, the creamy grits were more like a thin soup because of the broth applied to the dish. I wish they had left the broth off. For a starter wine we loved the
NV Lucien Albrecht Brut Rose, Cremant d'Alsace
for it's electrifying acidity and beautiful strawberry and cherry flavors.
My wife and her sister shared rather traditional fried oysters with a delicious mignonette and a fresh green pea hummus. My brother-in law cleaned his plate of the farm egg baked in a celery cream. The celery cream was delicious - and I generally despise celery.
My entree was braised pork cheeks over chive whipped potatoes garnished with shaved turnip, fennel, horseradish. The cheeks were amazingly tender and reminded me very much of a good osso bucco preparation. The shaved root vegetables kind of disappeared, though. The fennel was quite tasty, but I didn't notice any horseradish punch. And, once again, the whipped potatoes turned into a thin gruel because of the broth ladled over the top. Argh! The cheeks were plenty tender and moist on their own without the extra liquid. But the citrussy gremolata was a nice addition. The
2009 St. Innocent Momtazi Vineyard Pinot Noir, Willamette Valley
was stunning; particularly for the very reasonable restaurant price of $60. Gorgeous cherry, menthol and forest floor notes. I will seek out some of this wine. When that was gone I ordered a glass of the relatively simple
2010 Patricia Green Reserve Pinot Noir, Willamette Valley
. Compared to the St. Innocent, the Patricia Green was cloyingly sweet with notes of shrill, manipulated acidity.
Dessert was an absolute homerun. The cheese of the day with accompaniments was a local Mahon-like cheese with kumquat jelly, black pepper crackers and a handful of raw pecans. To be honest, the chewy pecans did nothing for me or the dish so after eating one, I pushed them aside. But the combination of the cheese, kumquat and cracker was just brilliant. And a glass of
2006 Alois Kracher Beerenauslese Cuvee, Burgenland
just took it to the next level. If you aren't familiar with Mahon, it's a Spanish cow's milk cheese with a thick rind, buttery texture and dense, pungent flavors of sweaty gym sock. The wine's lightly sweet apricot and truffle flavors were absolutely spot on with the earthy cheese and sweet citrus rind notes of the kumquat.
As fine a way to end a meal as I've ever experienced
.
Overall, I thought it was a very satisfying, fairly-priced meal but not on par with Atlanta's Woodfire Grill or my benchmark for excellence, the Dining Room at Justin Vineyards.