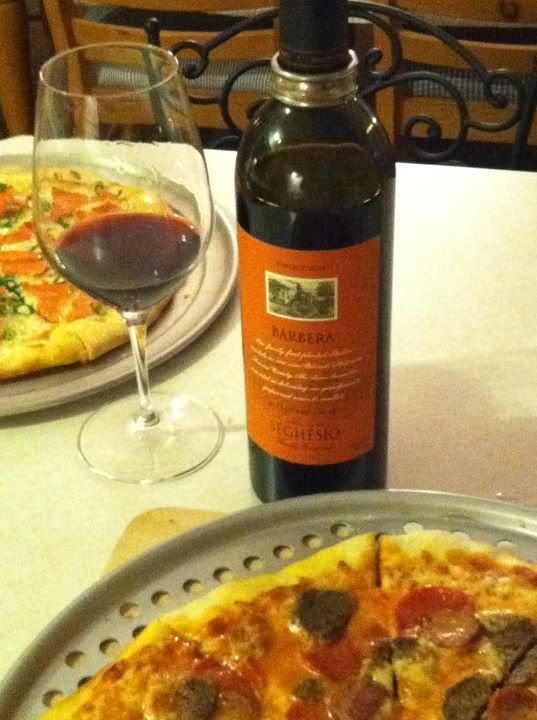 2008 Seghesio Barbera, Alexander Valley
- Color shows no sign of age. Beautiful aromatics of raspberry, vanilla, licorice and maybe even something a little darker in there like tar. Retains beautiful licorice and raspberry fruit on the palate, but there's a good bit of alcohol and acid in there, too. Not picking up much, if any, oak on this one even though I know it's been aged in barrels. I'd say at this point the oak is well integrated. The alcohol, on the other hand, is quite noticeable. 15.3% is the stated amount on the label and I believe every bit of it. Picks up some dark, dry baker's chocolate on the long, vanilla/sweet raspberry finish. Purchased for the ridiculously low price of $8.77 ($9.74 less a 10% case discount) on close-out at a St. Louis grocery store last Christmas. Normal retail is about $20.
For dinner I whipped up a couple of home made pizzas:
A "meat lover's" with pepperoni, andouille sausage and sliced homemade meatballs
BBQ pizza with smoked pork shoulder, BBQ sauce, shaved red onion and cilantro
Lox with creme fraiche and scallion (no, I didn't try the wine with this one!)
The wine was fantastic with the meat pizza and also quite nice with the smoked pork. Might have to open one of my remaining stash of these wines next time I have BBQ.