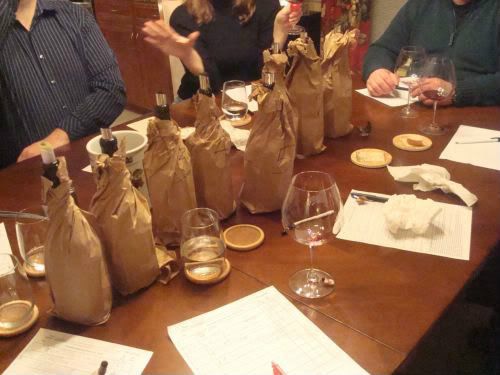 Last Saturday I attended a Pinot Noir tasting hosted by my store for some of our better customers. It was billed as a blind tasting for our customers. The only thing we told them was that all of the wines were "new world" and that there was 1 wine at each $10 price increment from $10 to $100. The idea was to see if you could pick out a $10 wine from a $30 wine from a $70 wine from a $100 wine. It was only semi-blind for me as I knew the wines in the line-up, but I had only actually tasted 2 of them.
All of the wines were served from bottles covered in paper bags and customers were invited to take notes and then guess which price range each wine should inhabit. After everyone had sampled each of the 10 wines, the identities were revealed and brief commentary was offered by our host - Aaron Meeker formerly of LDF Companies and now with Vine Street Imports.
Wine #1 – Sweet herbs, Juicy cherry-raspberry nose with a hint of menthol. Dusty, herbal palate. Tart fruit. Is this from New Zealand? Australia? Too herbaceous for me. Light and acidic. My guess:
Auntsfield Hawk Hill
($70). I've had this wine a few times at tastings and figured that light, herbaceous, dusty profile just screamed "Down Under." I was pretty far off as this turned out to be the
2009 Peay Scallop Shelf, Sonoma Coast
($60). I had the 2008 vintage of this wine in August of 2010 and found it yeasty with cherry compote and camphor notes; bears little resemblance to the 2009.
Wine #2 – Earthy and mushroomy with a bit of cherry and menthol on the nose. Rich, fleshy palate. Sweet fruit turns a bit green. Bay leaf on the finish. Oregon? My guess:
R. Stuart
($20). I hadn't had this wine before, but the earthy/mushroom notes immediately made me think Oregon. And I was spot on as this was indeed the
2007 R. Stuart Autograph, Willamette Valley
.
Wine #3 - Oaky, latex, alcohol, licorice and black cherry on the nose. Extracted, alcoholic, astringent on the tongue. Varnish finish. My guess: No guess on the winery, but by process of elimination, I figured this was the wine in the $60 price range. Turns out this was the
2008 Paul Hobbs Hyde Vineyard, Carneros
($90). I liked the extraction and power of this wine, but found it to be a little too rough and disjointed. A couple of years in the cellar would probably do this wine some good. But at that price, I'll never know.
Wine # 4 – Herbaceous (celery?), black pepper, barnyard. Celery blows off to reveal woody, cherry/vanilla notes. Nice acidity and minerality. Overall a bit green. Based on the acidity and minerality, I guessed this was the $60
Peay
. Turns out it was the
2007 Littorai Les Larmes, Anderson Valley
($40); a wine/winery I have no experience with.
Wine #5 – Stewed fruit, herb, prune nose. Hot and acidic on the palate. Tart cherry "Jolly Rancher" fruit. New Zealand? Okay, I'll admit I hedged my bet with this one and guessed it could also be the
Auntsfield Hawk Hill
. And that's exactly what it was:
2007 Auntsfield Hawk Hill Pinot Noir, Marlborough
($30). Once again confirms that I am just not a fan of New Zealand Pinot Noir.
Wine #6 – Cloudy appearance, light cherry/vanilla nose with candied cherry and orange peel on the palate. Quite acidic. Tastes cheap. Surely this had to be the cheap, generic, non-vintage
99 Vines
, right? Uh, no. This was actually the most expensive and smallest production wine in the line-up. Let me just say I would be inconsolably shocked if I paid $100 for this bottle of
2008 Bindi Block 5, Victoria
. Not only was this a shocking reveal to me, but the crowd of 40 or so was equally stunned as most had also pegged this at the bottom end of the price/quality range.
Wine #7 – Ridiculous amounts of vanilla and sweet cherry, borderline cough syrup. Turns more chocolate-covered cherry with air. Fine tannins, sweet cherry finish. This is a one-trick pony, but it's a pretty impressive trick. I was up in the air as to my guess on this one. I thought the lack of complexity might make this a cheap wine, but I guessed more expensive ($70) based on the extraction. Now would've been the correct time to vote for the
Nonvintage 99 Vines, California
($10). This isn't the best cheap Pinot I've ever had, but it was a solid daily drinker. And if given the choice, I'd take a case of this over a bottle of Bindi any day. (If that totally blows whatever respect you may have had for my palate and you stop reading my blog now, I'll totally understand.)
Wine #8 – Herbs, cranberry, high acid, quite tannic. Bit green on the finish, but there are some nice black pepper and dusty notes in there, too. Some thought the oxidation on the finish added complexity, but I found it a bit unsettling – and a big hint as to the wine's identity. I correctly surmised this to be the
2007 Auntsfield Heritage, Marlborough
($80); another wine of miniscule production. I think 7 6-packs of this made it into Kansas and my store got 5 of them. Regarding the oxidation, the last bottle of 1905 Auntsfield Muscat was added to the barrel that this wine came from as a tribute to the winery's 100th anniversary.
Wine #9 – Black olives, dark fruit, French oak, latex and the darkest color by far. Alcoholic with nice tannins and a long, dry cocoa finish. Easily my Wine of the Night. I had no idea which wine this was but I took a wild a$$ guess that it was the
Littorai
which would've put it in the $40 range. Unfortunately, it was the $70
Failla Occidental Ridge, Sonoma Coast
. Tremendous wine and everything I look for in a great Pinot Noir. But at that price I'm not a player.
Wine #10 – Herb, green peppercorn & spice with a solid core of fruit. Marred by some odd plastic/Band-Aid notes. Nice color, acidity. Big, dry tannins and a note of campfire. Spice had me thinking "Down Under" again so I thought this may be the
Bindi
. This was actually the
2009 Soter Mineral Springs Ranch, Yamhill-Carlton District
($50). I've had more than my fair share of Tony Soter wines (Araujo, Etude, Dalle Valle, Viader, Shafer, etc.) but I'm pretty sure this is the first Oregon Pinot I've had of his. Can't say I was terribly impressed.
I love tasting blind. It's always such an educational and humbling experience. On the other hand, it would've been nice to be able to spend an entire evening with a bottle of some of these wines over a nice meal. When you only get 5 minutes or so with an ounce of wine, you can't really get an idea of where the wine is going or how it might react with food. I definitely wish I had had more time with the Hobbs (to see if it would integrate a bit), Bindi (to see if it would tell me why it cost a c-note) and the Failla (since it's just so...damn...good).