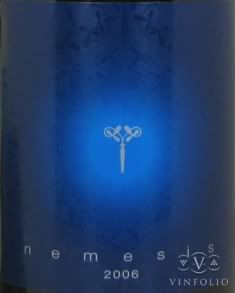 It's really difficult to convey just how impressive and delicious the
2006 Linne Calodo Nemesis, Paso Robles
is. I wanted to open something pretty special for tonight, the Wall Street Journal's
Open that Bottle Night
, but I had no idea just how pleasing this wine would be. The incredibly dark maroon color shows hardly any sign of age. The nose? What can I say about the nose? It continues to give up a melange of aromas including chocolate-covered cherries, fresh-cracked black pepper, cherry cough syrup/camphor, black shoe polish and resinous, sweet herbs (rosemary, thyme, lavender). The palate is still youthful with chocolate-covered cherry, mineral and black pepper flavors and an uncanny balance of tannins and acidity. The structure makes me think this wine could easily age another decade or so. The 15.7% alcohol is definitely there, but there's so much fruit in the glass that it really isn't obtrusive. This blend of 82% Syrah, 14% Mourvedre and 4% Grenache is easily one of the best wines I've ever had from the Paso Robles region. About $50
My wife and I purchased this bottle from the winery on a visit to Paso Robles in the spring of 2009. At the time I had reservations abut purchasing wine from this winery as we never really felt any "love" there. Everything there was really expensive, the young woman working the tasting counter was rather aloof and it was one of the few places that charged us a tasting fee even though we purchased a couple of bottles. It really didn't embrace the Paso Robles spirit that we felt everywhere else we tasted. But as I've opined before, I guess you can afford to be that way if your wines are just that damn fantastic.
Dinner tonight was flank steak grilled over charcoal with a zesty charmoula sauce, steamed broccoli and porcini rice pilaf (kind of gummy - ugh!). If you aren't familiar with charmoula, here's a quick recipe. It's delicious over grilled beef, chicken and might even be tasty on a slab of grilled salmon:
Charmoula
1 T toasted, ground cumin seeds
1 1/2 cups Italian parsley
1 1/2 cups cilantro
2 garlic cloves
1 T smoked paprika
1 t kosher salt
1/4 t cayenne pepper
1 T fresh lemon juice
1/2 cup extra virgin olive oil
Process everything in a food processor (or mortar & pestle) and then stir in olive oil. Keeps well at room temperature for 2 weeks or so.