Weather de damned, I was hell-bent on grilling some steaks and enjoying a bottle of red wine tonight. The biggest storm to hit Kansas City in the last 50 years is still a few hours away so all I had to face was the prospect of a thick sheet of ice over my back deck. The steaks were USDA Choice rib eyes rubbed with equal parts coarse ground coffee, Penzey's
Fire
Northwoods
seasoning and kosher salt and grilled over charcoal spiked with a couple of apple wood chunks. I wouldn't normally use apple wood for beef, but I had some left over from smoking a pork shoulder last weekend so I tossed them on the fire. Accompaniments were grilled asparagus and cilantro and blue cheese smashed red potatoes.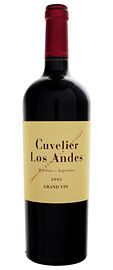 The wine was as stunning as the steaks. The
2005 Cuvelier Los Andes

Grand Vin

, Mendoza
has an uncommonly dark color for Argentinian Malbec. Although this blend of 70% Malbec, 10% Cabernet Sauvignon, 9% Syrah, 7% Merlot and 4% Petit Verdot is aged in French oak barrels, it has a slightly dilly nose that I normally associate with American barrels. Not sure how that aroma sneaked in there, but it plays a mere supporting role to the coffee, spice, blackberry syrup and licorice. The palate is quite full-bodied with big tannins, toasty French oak, licorice and blackberry flavors. This stuff is so thick and unctuous, yet the tannins and acidity are perfectly balanced so that each sip is as good as the last. Worth every penny of $40 if you're ready to take Malbec to the next level. Already throwing considerable sediment, I have no doubt this collaboration of Chateau Leoville-Poyferre and uber-wine consultant Michel Rolland will last a long, long time in the cellar.