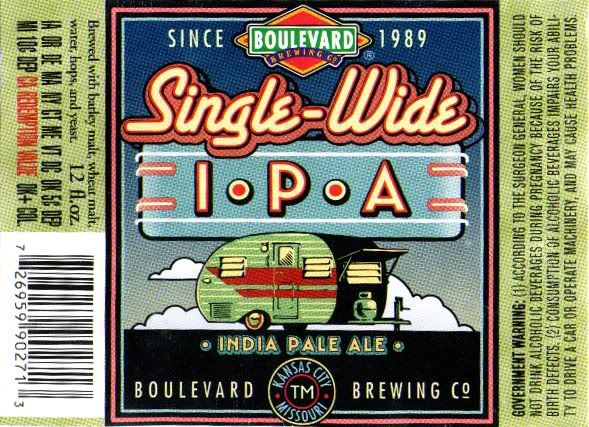 I don't consider myself a beer drinker but over the past couple of years I've developed a taste for IPA. I really appreciate the complexity of a nicely balanced IPA and how the citrus and resinous flavors (from the hops) intermingle with the sweet malt. I certainly don't plan on turning this blog into a beer forum, but here are some brief notes on some IPAs I've sampled over the past few weeks:
O'Fallon

5 Day

IPA, O'Fallon, MO
- Rich, cloudy, dark copper color. Sweeter than most IPAs with very little carbonation. Whereas most IPAs start off rather hoppy and then finish with the sweeter malt flavors, this one strangely starts off with the sweet malt and finishes with the bitter hops. Not sure how they accomplish that juxtaposition, but it's quite pleasant. Turns a bit tiresome towards the end of the glass
Boulevard Brewing Co

Single Wide

IPA, Kansas City, MO
- The perfect everyday IPA for when you can't handle the sheer intensity of their Double Wide IPA. Tangy grapefruit and pine resin aromas and flavors. Creamy finish. A true Kansas City treasure.
Buffalo Bill's Brewery

Alimony Ale

IPA, Hayward, CA
- Clear, medium copper color. A very herbal, dry style of IPA where the hops dominate and the malt is nearly non-existent.
Fort Collins Brewery Rocky Mountain IPA, Ft. Collins, CO
- Rather dark color for an IPA. Nice balance of hops and malt here, but the finish is marred by an odd, earthy, almost mushroomy flavor. Strange style that I can't really get on board with.
Abita

Jockamo

IPA, Abita Springs, LA
- Clear copper color with minimal carbonation. Comes across as very fruity, but in an overripe, muddled kind of way. Assertive hoppiness with minimal malt. Just seems rather disjointed and unfocused. Not a favorite of mine.
New Belgium

Ranger

IPA, Ft. Colling, CO
- Light copper color. Fairly light for an IPA. Pours a great head. Initially skunky nose, but really has a nice balance of hops and malt. Finishes with a very pleasant bitter note. Well done. I would expect no less from New Belgium.
Schlafly Dry Hopped American Pale Ale, St. Louis, MO
- Pretty dreadful stuff here. Has that skunky aroma and flavor reminiscent of Rolling Rock lager and a really odd, prickly finish. Bears little resemblance to pale ale.
And a few others that I have really enjoyed over the past 6 months or so (sadly, no tasting notes):
New Holland Brewing Mad Hatter IPA, Holland, MI
Ale Asylum Satisfaction Jacksin Double IPA, Madison, WI
Sweetwater IPA, Atlanta, GA (beautiful peach notes on the nose)
Terrapin Brewing Hopsecutioner, Athens, GA