Had two really nice wines tonight. Since I'm working on Sunday, my wife's birthday, I thought I'd whip up some nice food and wine this evening. Appetizers on the deck were goat cheese with green olives, a local emu summer sausage and a spring pea puree with toasted baguette slices. With this, we opened a
2008 Quivera

Fig Tree Vineyard

Sauvignon Blanc,, Dry Creek Valley
. Beautiful, yeasty, citrusy notes from this biodynamically-farmed wine.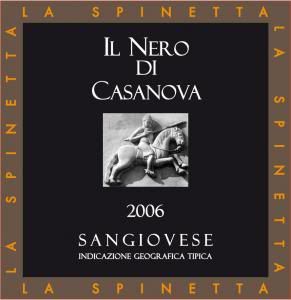 Dinner was my all-time favorite lamb chop preparation with cannelini beans and wilted kale. With this we had the
2006 La Spinetta

Il Nero di Casanova

Sangiovese IGT
. The color of this wine transcends all you know about the Sangiovese grape. Fantastic aromas and flavors or deep red and black fruits and sweet licorice. Huge tannins that really demand something like lamb chops. No, it's not a traditional take on Tuscan Sangiovese, but it's 100% delicious.
The lamb chop recipe comes from an old www.westcoastwine.net post from Gordon Drake from many years ago. Basically, coat the lamb chops in Dijon mustard, roll them in seasoned breadcrumbs and then pan fry them in olive oil for a minute or two per side. Remove them from the pan and wilt some chopped kale in the pan drippings. Add a can of cannelini beans and a splash of chicken stock and heat through. Simple and satisfying.