Brought home a couple of bottles tonight from a hard day (yeah, right!) of tasting wine. These are two Zinfandels that we have added to our line-up this month. The Steele came in last week and the Fiddletown arrived on Monday. We re-introduced Steele to the Kansas market last fall and we have done quite well with their Pacini Vineyard Zinfandel (Mendocino) and their Writer's Block Zinfandel (Lake County). So we registered another one of their single vineyard Zins earlier this year. The Fiddletown is a new brand for us.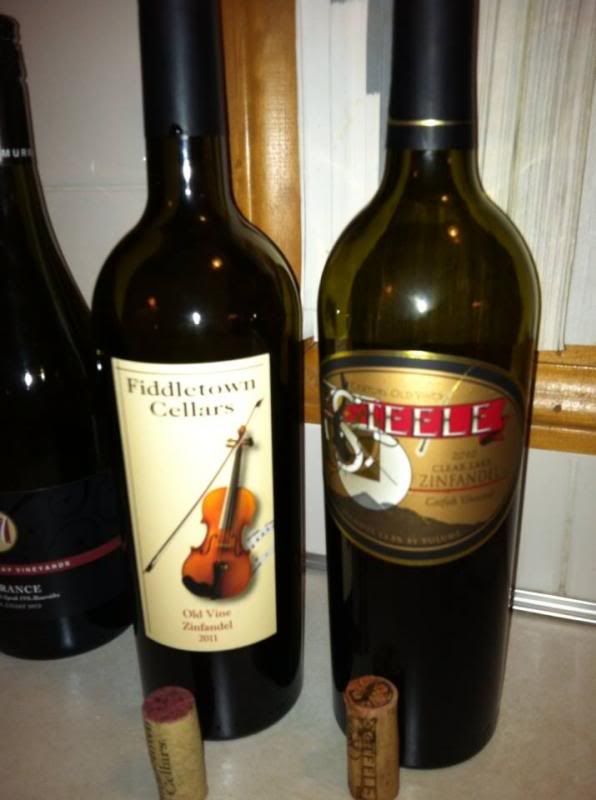 Dinner tonight was ground turkey mixed with a little bit of breadcrumb, seasoning and reconstituted sundried (actually, oven-dried) tomatoes from out garden. I grilled them over charcoal and then served them on onion rolls with a sundried tomato Dijonnaise. A perfect pairing with both wines.
The
2010 Steele Catfish Vineyard Zinfandel, Clear Lake
hails from a vineyard planted in 1901. Yeah, that's over 100 years old. A field blend with small amounts of carignan, alicante bouschet, cabernet sauvignon , petite sirah, and cinsault. The old vine nature of the rugged, briery, brambly fruit is readily apparent. Tons of spicy raspberry and blackberry here. The wine is aged in what the winery refers to as "hybrid barrels" where the staves alternate between French and American oak. The smoky, vanilla notes from the French staves are nicely balanced with the Bourbon-like qualities from the American oak. Overall, a very nice package that toes a fine line between rustic and polished with restrained 13.8% alcohol and moderate tannins. Retails for about $20 and worth every penny of it.
The
2011 Fiddletown Cellars Old Vine Zinfandel, Amador County
pours a slightly darker color than the Steele. Everything about this wine is just a little more than the Steele. More color, more alcohol, more fruit, more oak. Creamy blackberry and blueberry in the nose with a touch of residual sugar and noticeable alcohol (14.5%) on the palate. Turns quite oaky on the finish. While the wine displays a good level of extraction, the acidity keeps it from wading into that overripe/raisiny territory sometimes found in Amador County Zinfandels. Aged in a combination of French and American barrels. Retails for about $18.
These are two excellent wines that are reasonably priced for what they represent. Your favorite of the two will probably just come down to a stylistic preference. In case you haven't guessed by now, I sell both of these wines in the great State of Kansas.