After wondering yesterday what Ambullneo's Syrah must taste like, our friends showed up with one for dinner last night. The
2008 Ambullneo

Howling

Syrah, Santa Maria Valley
comes, I suspect, from high altitude vineyards as it has a lot of cool climate qualities such as restrained fruit, pencil lead, wintergreen and green peppercorn aromas and flavors. It is very reminiscent of a more full-bodied and more extracted version of the Marelle Syrah I reviewed a few weeks ago.
The other wine they brought over was the
1996 Araujo Eisle Vineyard Cabernet Sauvignon, Napa Valley
. Classic Napa Valley Cabernet flavors of black cherry, cedar and mint dominate the nose. The palate is quite rich and chocolaty. Seems a bit on the alcoholic side. Tannins are still present, but nowhere near the structure of the 1995 of this wine that we had on Friday night. we are fortunate to have such generous friends.
After tasting a small sip of the Ambullneo Syrah, I immediately went to the cellar to pull out a Syrah that I thought would provide a nice counterpoint. So I grabbed a
2007 Terry Hoage Vineyards

Hedge

Syrah, Paso Robles
. This is a much more in-your-face experience that showers you with black fruit, licorice, graphite and French oak. The mouthfeel is thick and luscious.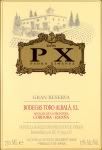 We finished the night off with an assortment of decadent brownies and a bottle of
1972 Toro Albala P.X., Montilla Moriles, Spain
. This wine is blacker and thicker that old engine oil and features aromas and flavors of raisin, maple and molasses. A great wine with chocolate.