Tried a couple of Spanish wines on Saturday. The first was recommended to me by a customer who had special ordered a case and kindly let me buy a bottle. The Rioja is one of the wines we are featuring in our Wine of the Month club:
2010 Penelope Sanchez Garnacha/Syrah, D.O. Borja
- Pretty magenta color. Heady, alcoholic, raspberry/mocha nose. Suffers a bit from that dry, herbal, "bay leaf" sensation on the palate. Nice $10 daily drinker, but nothing more. I'm a little confused by some of the critical praise for this one as I've had better Spanish Garnacha in this price range (Las Rocas, Menguante, Tres Picos)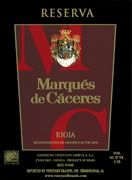 2005 Marques de Caceras Reserva, Rioja
- The anti-Rioja. Impenetrable color. Aged in 100% French oak that drifts towards smoke and vanilla rather than the normal aromas of pickle and Bourbon associated with Riojas aged in American hogsheads. Massive tannins. Leathery, blackberry palate with a subtle floral note. Should age quite well. A Rioja for those who prefer Cabernet Sauvignon to Pinot Noir. About $25.