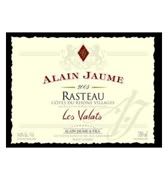 Opened the
2007 Alain Jaume Les Valats Rasteau, Cotes-du-Rhone Villages
with tonight's bacon-wrapped/smoked pheasant breast. This negociant wine from
Domaine Grand Veneur
is a dense and chewy blend of 90% Grenache and 10% Syrah that nicely evolves in the glass over the course of a meal. Initially shows a lot of funky earth, campfire and meaty aromas and flavors. As it opens up in the glass, it reveals layers of dry cocoa, sweet/tart raspberry and hickory wood. Tannins are moderate at best, but the orange peel-flavored acidity is off the charts. Long, dry woody finish. Could develop into something nice with a couple of years in the cellar.
The pheasant was, in a word, superb. Might be the best pheasant I've ever grilled. I sprinkled each breast with kosher salt, black pepper and
herbs de Provence
before wrapping in a slice of apple wood smoked bacon. I then grilled the breasts (indirect heat) over charcoal augmented with apple wood chips. Sides were roasted sweet potatoes with butter and rosemary and a mixed green salad with an orange-Sherry vinaigrette.