Had out dear friend Alex over on Sunday for a day of shooting (12 gauge, .357 magnum, .30-06) and some food and wine. Dinner was St. Louis style spare ribs that I overcooked; an unpardonable offense in my book. I let them spend an hour or so too long on the smoker and they ended up being a good bit drier and tougher than I was shooting for. Shame on me.
We started with a bottle of the
NV Riondo

Spago Nero

Prosecco
; a wine I've reported on many times. Nothing new here. Just that lovely, bubbly, pear/apple profile that quenches the thirst on a brutally hot Kansas afternoon.

2010 Charles & Charles Rose, Columbia Valley
- This 100% Syrah rose sports a pale magenta color with a bluish tint. Blackberry, raspberry aromas and flavors abound in this very full-bodied pink wine. Charles & Charles proves that you can indeed drink rose and be
bad ass
! $11
2008 Seghesio

Home Ranch

Zinfandel, Alexander Valley
- Impressive, dark color. Classic old vine Zinfandel nose of blackberry, brier and black peppercorn. Quite full-bodied with big, powdery tannins. Finish turns a bit green after a couple of hours. A bit of American oak on this wine, but it only reveals itself after an undue amount of air. A wee bit overpriced at $39
2008 Ambullneo "Zito Family Vineyards"

Tres Ninos

Zinfandel, San Luis Obispo County
- Sweet cherry and a rich, nutty Graham cracker crust element in the nose. Light in color for a Zinfandel. Sweet/tart cherry flavors and a good bit of spice on this whimsical Zinfandel. This is a side project of Ambullneo's Greg Linn. I cannot find any additional information about this particular Zinfandel on the
Nonno Zito
website.
2006 Ambullneo Vineyards

Howling

Syrah, Santa Maria Valley
- Medium-dark color more reminiscent of a Cabernet Sauvignon than a Syrah. Super meaty with hickory smoke, beef jerky, wintergreen and white pepper all pitching in on the
supremely
complex nose. Huge mouth-filling tannins with fleshy, meaty, salami-like flavors on the palate. A ponderous, contemplative wine and a textbook example of a cool climate California Syrah. Bravo!
We finished the evening with a couple of drams of Bushmill's
1608
Irish Whiskey and some Cuban cigars I've been hoarding (under impeccable conditions, of course) for the last 10-12 years. Combine that with no less than three separate fireworks shows on the horizon and you've got a recipe for a fine evening.
Our friend stuck around long enough on Monday to get in a few hours of fishing on the pond(s). We mostly caught smaller fish, but there were a couple a of nice size bluegills (Alex) and a 1.5-2 pound Largemouth (me) in there, too. After Alex left we spent some time tidying up the garden and doing farm stuff. Around 2 p.m. or so I threw 30 pounds of pork shoulder on the smoker for a family reunion dinner later in the week. Dinner was one of my all-time favorites: charcoal-grilled flat iron steak with fresh chimichurri sauce.
2010 Willow Crest

Estate Grown

Pinot Gris, Yakima Valley
- Pale color, as expected.
Tremendous
nose of banana, pineapple, tangerine and spice. Slight spritz on the attack. Tropical, pineapple flavors and a good dollop of minerality on the palate. Refreshing acidity. This wine consistently runs neck-and-neck with Cline as my favorite value domestic Pinot Gris. $11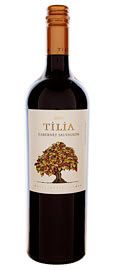 2009 Tilia Cabernet Sauvignon, Mendoza
- This sustainably-farmed Argentinian Cabernet has a deep, saturated color with blackberry, currant and spice on the nose. Good bit of oak, as well; but it's the cedary type rather than the cheap, dilly American variety. Jammy cranberry and spice on the palate. A pretty simple wine, but packed with yummy goodness. Turns a bit "green" after a while. Low acid and light tannins make it perfect for drinking now. $12