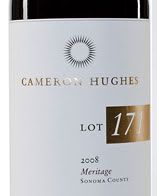 Cameron Hughes
is a very interesting story. An international negociant, he buys completed wines from around the world, bottles them as is and sells them for a fraction of what the original producer would have sold them for. The wines that they have offered throughout the years is astonishing. Everything from California Cabernets and Chardonnays to Moscato d'Astis to South African Sauvignon Blancs to Grenache blends from Spain's Priorat. Apparently, if you have too much of it, Cameron will repackage it and sell it.
But while I recently enjoyed the rich, tropical
Lot 159
Chardonnay (Santa Barbara County), I wasn't terribly impressed with tonight's red offering. The
2008 Cameron Hughes

Lot 171

Meritage, Sonoma County
is a blend of 85% Merlot, 10% Petite Verdot and 5% Malbec. The color is most unimpressive; more reminiscent of an entry level Pinot Noir than a Bordeaux blend. Strong menthol controls the nose with faint notes of tart cherry, watermelon Jolly Rancher and hickory smoke lurking in the background. Thin and frail on the palate with meager tart cherry flavors and out of balance acidity. Modest tannins suggest this is best consumed young. If you want to take a chance on this wine, I would recommend treating it like a Sangiovese and look for a tomato sauce to provide some balance. Not worth $15.