Spent a lot of time doing farm stuff this afternoon. In addition to the normal chores of feeding and watering all the animals I disassembled a couple of wooden shelters that had been housing the ducks and turkeys. The birds had outgrown the small boxes and the weather had taken its toll on them as well. Stifling heat and humidity made it pretty tedious. So a crisp, refreshing white wine was in order. The
2008 Marquis Philips

Holly's Blend

, South Eastern Australia
sports a medium gold color. About half Verdeho, the rest of this inexpensive blend is Chardonnay, Semillon and Sauvignon Blanc. The initial burst of honey-lemon on the nose suggests a sweet, fruit-forward wine. But the palate is actually quite rich and earthy with a beautiful waxy texture. Great acidity. 15% alcohol. About $12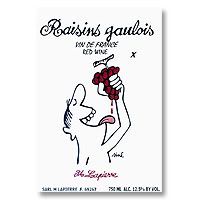 Dinner tonight was a pork tenderloin that was rubbed with a honey/Dijon/garlic/rosemary marinade and grilled over hickory and apple wood. It was accompanied by some amazing multi-colored carrots we pulled from the garden and roasted whole with just a bit of olive oil, salt and pepper. When the carrots were done, they were drizzled with just a bit of honey and then sprinkled with fresh chopped rosemary. Sublime! The
2010 Lapierre

Raisins Gaulois

, Vin de France
was the perfect partner for this meal. Tantalizing electric magenta color followed by amazing raspberry, cherry and strawberry in the nose. The purity of fruit is immediately comparable to the oft-mentioned
Alpha Box & Dice

Tarot

Grenache
. Light-bodied with juicy strawberry flavors complimented by earth and mineral notes. No oak is used in the vinification of this wine. Mouth-watering acidity. About $15
This is the first vintage of this wine (made by the son) after the untimely death of the legendary Marcel Lapierre; an early proponent of organic winemaking and one of the men credited with helping change the way wine drinkers think of the Beaujolais region. When the world was fixated on insipid Beaujolais Nouveau in the 70s and 80s, Lapierre was putting away the chemical fertilizers and drastically cutting back on sulfite additions.
A view of the farm back in late winter/early spring. This is before we had any fencing put up and we had just laid out the raised beds that would become the garden:
The same view today with a goat pen, a duck/turkey pen and a bustling garden (that is in desperate need of a good weeding). So far we've been enamored by the beets, carrots, arugula and herbs. Beans and a
huge
crop of tomatoes are coming soon. Next year we'll probably skip the broccoli (very leafy, no crowns), strawberries (only 2-3 of 10 came in and the fruit has been very tiny) and edamame (none of the 10 or so seeds we planted ever sprouted).
The neighbor spent a few days last week harvesting the Brohm hay growing along the sides of the property and in the back yard. He has a large cattle operation out in western Kansas and we've got a gentleman's agreement that he can have the hay. I think I counted 32 bales that they cut, dried and rolled!