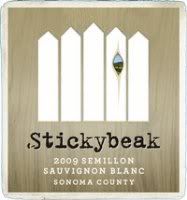 The
2009 Stickybeak Semillon/Sauvignon Blanc, Sonoma County
is a blend of 72% Semillon and 28% Sauvignon Blanc and one of the featured wines of Off the Vine Design's Wine of the Month Club. Quite a bit more than I expected here with an earthy, almost truffle-like nose, with yeast and smoke playing a supporting role. Rich palate with fine acidity and light melon notes on the finish. No fruit bomb. Enjoy this one as it approaches room temperature. And consider pairing it with a quiche. About $20
No surprise that the
2008 Dunning Vineyards

Vin de Casa

, Paso Robles
- remains a consistent winner in my book. The blend of 45% Cabernet Franc, 35% Zinfandel, 20% Syrah shows dark cherry with hints of herb and licorice in the nose. Great concentration of fruit and licorice on palate. Nice acidity, fiercely tannic. Sweet, herbaceous finish. Consumed with a couple of meaty take-out pizzas. About $24
Last weekend we harvested the last of our spring/summer beets and cut another huge bunch of peppery arugula. I turned it into an arugula salad tossed with a quasi-Asian vinaigrette, roasted beets, candied cashews and smoked salmon (also treated with an Asian-inspired rub). A couple of Rieslings were opened for the sake of comparison and contrast.
First up was the
2008 Michelle Loosen

Eroica

Riesling, Columbia Valley
. Yeasty, green apple nose with just a bit of the petrol that I dig in Riesling. Laser-sharp focus with more tart green apple and mineral flavors on the palate. Just barely off-dry. Overall, this is a very well-made wine, but alas it was too dry to successfully accompany the food. $20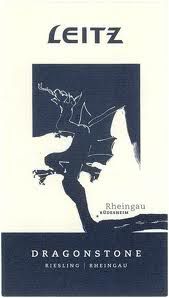 Slightly sweeter was the
2009 Leitz

Dragonstone

Riesling, Rheingau
. Peach and apricot dominate with supporting tropical notes of kiwi and pineapple and petrol. Moderately sweet (though considerably sweeter than the Eroica), this was a better pairing with the food, but still not as sweet as I needed it to be. Nicely balanced minerals and acidity on the finish. Softer than the Eroica. $16
The recipe I used is from an older cookbook and sadly I can't find any link to it on the internet. I really liked the
concept
of this salad, but it needs some modifications. Next time I want to try it with seared, thinly-sliced ahi instead of smoked salmon. And I'll ditch the olive oil called for in the dressing and use a more neutral vegetable oil instead. And I'll seek out a Riesling or Gewurztraminer (or both) with a bit more residual sugar to counteract the heat and saltiness of the recipe. When I get around to making it again (with modifications) I'll type out the recipe here.