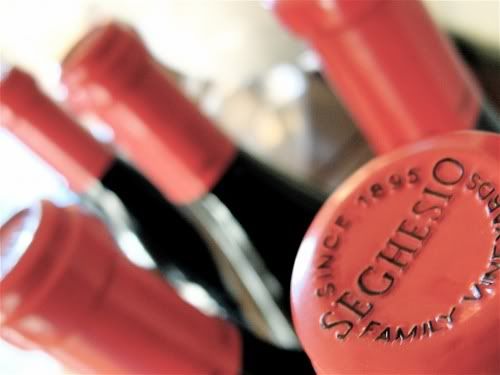 I was pleased to attend a tasting last week featuring the wines of
Seghesio
Winery and enjoyed a couple of bonus pours afterwards.
2010 Seghesio Pinot Grigio, Sonoma County
- Consistently one of the best domestic Pinot Grigios. Orchard fruit (pear, apple) and wet stone nose followed by dry tropical flavors on the palate. Quite dry with refreshing acidity and a long finish. $19
2007 Seghesio Barbera, Alexander Valley
- Captivating nose of black cherry and vanilla/smoky French oak. Very acidic with a decidedly mushroomy edge. Needs food. Didn't show the uncanny
cranberry liqueur
of the last bottle I had, but still a very nice wine. $27
2008 Seghesio Sangiovese, Alexander Valley
- Black olive, candied fruit and licorice on the nose and in the mouth. Didn't show as well as previous bottles. $27
2009 Seghesio Zinfandel, Sonoma County
- Another remarkably consistent wine. Coconut/American oak, bright raspberry and menthol nose. Nice tannins. Dry with a sweet/tart raspberry finish. The quintessential summertime Zinfandel. I've been drinking this wine for nearly 20 years and I hope to still be drinking it 20 years from now! $20
2008 Seghesio Home Ranch Zinfandel, Alexander Valley
- Switches gears with Rhone-like notes of rosemary, green peppercorn and menthol. Massive black pepper and luscious dark fruits. Tannic. Very interesting Zinfandel and worth the $37 entry fee.
2003 Seghesio

Venom

Sangiovese, Rattlesnake Hills, Alexander Valley
- Color shows some bricking as one would expect from a Sangiovese with a few years on it. Initial nose of American oak and mushroom gently yields to a beautiful bottle sweetness with sanguine notes. Long finish and considerable tannic grip.
And a few bonus pours:
2007 Bodega Pulenta Estate Merlot, Mendoza
- Great color. Sweet/tart cherry nose with a hint of black olive. Olive is even more prevalent on the palate. Medium-bodied with a bit of that "hollow" mid-palate common to Merlot.
2007 Bodega Pulenta Estate Cabernet Sauvignon, Mendoza
- Nose is initially all about sweet black fruit and licorice, but it picks up some green notes with air. Palate is quite green and peppery. Black fruits kicks in again on the finish. Moderate tannins.
2007 Cuvelier los Andes

Grand Vin

, Mendoza
- A blend of 73% Malbec, 19% Cabernet Sauvignon and 8% Merlot from the winemaking team at the famed Chateau Leoville Poyferre. Jet black in color with crazy notes of licorice, pencil/graphite, black fruits and latex. Monster tannins beg for time in the cellar. Picks up a bit of truffle with air. Really shows its Bordeaux heritage and hands-down my favorite wine of the evening.
2008 Barrel Monkey Shiraz, McLaren Vale
- Dill and blackberry syrup on the nose and palate. Thick, with low acid and moderate tannins. Short finish. Not my cup of tea.