Last week, my wife's boss, a member at
Highland Hideaway
in SE Iowa, brought us a number of pheasants that he shot a few weeks ago. I had the pleasure of going hunting with him there a couple of years ago and if not for the late fall hunting date, I would gladly go again.
My favorite thing to do with pheasants is to breast them out and make a stock with the remaining carcass. I season the breasts, wrap them in bacon and them hot smoke them over charcoal and maple chips for about 30 minutes. They are wonderful served over a bed of red wine risotto whose color and texture has been bolstered by a handful of wilted radicchio.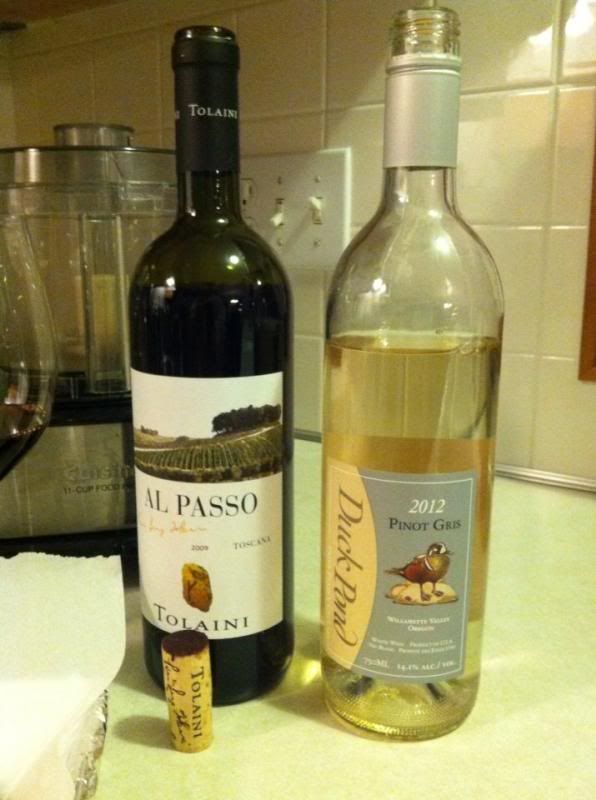 2012 Duck Pond Pinot Gris, Willamette Valley
- Thoroughly enjoyed this one before dinner (and had another glass after dinner). Has that glorious, brassy color that I really appreciate in a good Pinot Gris. Herbaceous aromas and flavors of citrus and sweet green bananas
with lively acidity and good minerality. I would drink this over and over again. About $15.
2009 Tolaini Al Passo, Toscana
- This full-bodied blend of unspecified amounts of Sangiovese and Merlot shows a completely saturated color and a certain cloudiness that suggests a lack of filtration. The nose is dominated by a plummy herbaceousness from the Merlot but the palate is all about licorice-tinted, funky dustiness from of the Sangiovese. Wonderful acidity and tannins suggest this one could effortlessly age for another 5-7 years. Love the long, herbaceous, tart cherry finish. A faithful companion to the dinner. About $25