Felt like making a hearty soup with the chilly, rainy weather we've had of late. My wife found a pretty decent looking recipe in Cooking Light magazine which was basically cooked sweet potatoes and onion pureed with chicken stock and garnished with Parmesan cheese and crispy bacon. Really hit the spot with a black pepper/Parmesan toast.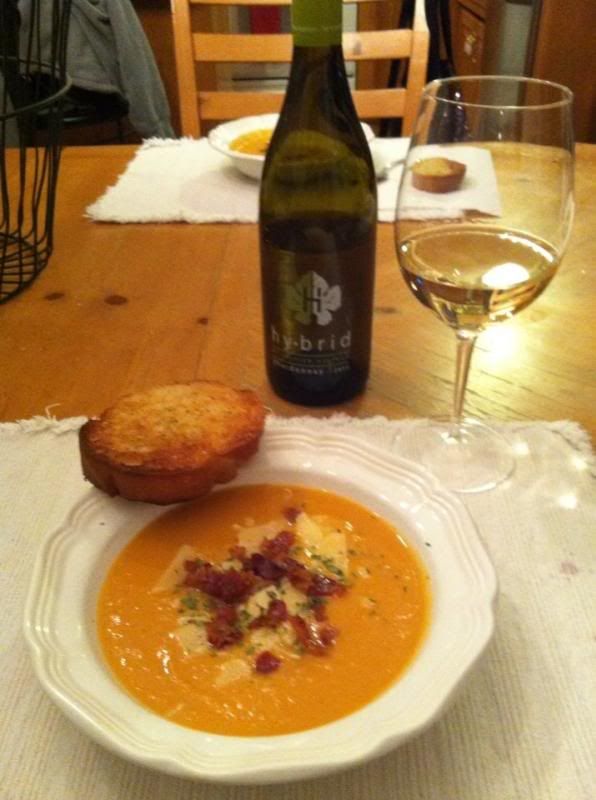 I had some samples left over from today's sales rounds of some new wines we brought into Kansas about 2 weeks ago. The Hybrid wines are the second label of
Peltier Station
; a third generation family-run winery dedicated to sustainable farming in the Lodi region. The winery is named for an old train station where table grapes used to be loaded on boxcars and shipped eastward. A tip of the cap to Claire Augustine of
Classique Wines, LLC
and
Claire Uncorked
who turned me on to this winery.
2012 Hybrid Chardonnay, Lodi
- This unoaked Chardonnay shows a light, clear color in the glass; as expected. Aromas of banana, mango and ripe tropical fruits leap out of the glass. A bit simple, but smells quite delicious. Spry and tangy on the palate with minerality and spritzy acidity. Might be a bit monolithic if you're into top flight Napa and Sonoma Chardonnay, but a very drinkable $10 wine.
2012 Hybrid Pinot Noir, Lodi
- Yes, Virginia, there is a Pinot Noir from Lodi. And this one is pretty nice so long as you aren't an oak-a-phobe. Perfectly acceptable clear garnet color with a good dollop of hickory-scented wood/campfire accompanying the juicy raspberry and cherry notes on the nose and palate. No noticeable tannins. Finishes with vanilla bean and surprisingly nice acidity. A lot to like here for $10. Pinot Noir with a splash of Viognier.
2011 Hybrid Cabernet Sauvignon, Lodi
- Deep, woodsy nose more reminiscent of forest floor and cured meat than a tooty-fruity $10 California Cabernet. Medium-bodied, Merlot-like palate with some nice dark fruit, vanilla and moderate tannins. Acidity on the finish seems a little artificial, but overall, a very nice value. Drink up.
Disclaimer: As you've probably noticed by now, I distribute this wine in Kansas.