For my 44th birthday and I decided to celebrate with a roasted chicken; one of my favorite comfort food meals. Sides were roasted sweet potatoes and braised Brussels sprouts with bacon, cranberries and pecans.
Lucas & Lewellen
, one of the wineries I distribute in Kansas recently sent a few samples of wines I don't currently carry but they would like for me to add to the portfolio. From the selection, I figured the Merlot and Pinot Noir would go best with tonight's dinner.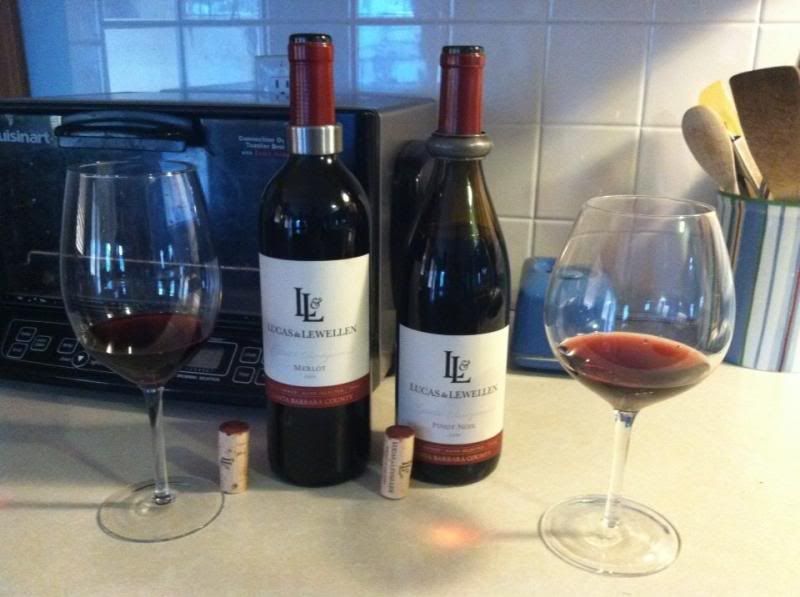 2009 Lucas & Lewellen Pinot Noir, Santa Barbara County
- Pretty garnet color with just a hint of cloudiness. In the nose, beautiful aromas of vanilla, tea, black cherry and mulling spices. Maybe even a hint of forest floor in there, too. Still quite warm and vibrant on the palate with flavors of black cherry and mulling spice. Negligible tannins and good acidity indicate it's time to drink this up. Long vanilla finish. Not quite as distinctive as their
Goodchild High 9 Vineyard
bottling, but still a good value in the mid-teen range.
2009 Lucas & Lewellen Merlot, Santa Barbara County
-Deep color shows no sign of age. A solid, medium-bodied style with fig, caramel, toast and blackberry pie notes on the nose and palate. I really like how the winemaker has balanced the richness of this wine with nice tannins while keeping it medium in body. There's lots to like in here, but it isn't overly-extracted or sweet. Just a
touch
of herbaceousness on the finish. I think there's a better than fair chance that we will be bringing this one to Kansas soon. Also about $16.