So I'm out making sales calls in Lawrence, KS on Wednesday at this quirky little retailer and a regular customer comes in. The owner excuses himself from our conversation, goes to the back and returns with this large brown paper bag. He places it on the counter in front of the customer and asks the customer to open it. The conversation goes something like this:
Owner: "Go ahead, open it."
Customer: (Face lights up) "Wow, that looks and smells amazing.!"
Owner: "My buddy found it out in the woods today. Interested? Go ahead and take a handful. There's plenty in there. More than I need."
Meanwhile I smell something delicious wafting across the room from a few feet away as I'm waiting for the DEA to bust in with jackboots and M-4's. Is this really happening?
Owner: (Turns to me) "You want some, too?"
What's in the bag? A pound of weed? Nope. Turns out the owner of this store is good friends with the owner of
www.morelhunter.com
, a professional mushroom hunter and salesman. And the morel hunter had just dropped off a basketball-sized Maitake mushroom (a.k.a. Hen-of-the-Woods) that he had found that morning. Not being one to pass on an opportunity like that, I pulled off a large hunk and took it home thinking of what I could do with it for a dinner over the next night or two.
I ended up working it into tonight's dinner of braised short ribs over a simple risotto and sauteed spinach. I don't recall ever having maitake mushrooms so I did a little internet research on them. Apparently, they fry up quite well. So instead of doing a quick saute and then stirring them into the risotto, I decided to leave them out of the risotto (hoping to keep them from turning mushy) and let them shine on their own. And what a good decision that was. Broken into pieces, these things fry up in butter into a deep, golden brown like a chicken breast. And best of all, they maintain their dense, chewy texture without turning to mush like shiitakes, criminis or portabellas. Just an amazing mushroom experience. Easily trumps any morels or porcinis I've had. I've very grateful to this retailer for this phenomenal experience and I'll be dropping off a bottle of something nice for him to enjoy at his leisure.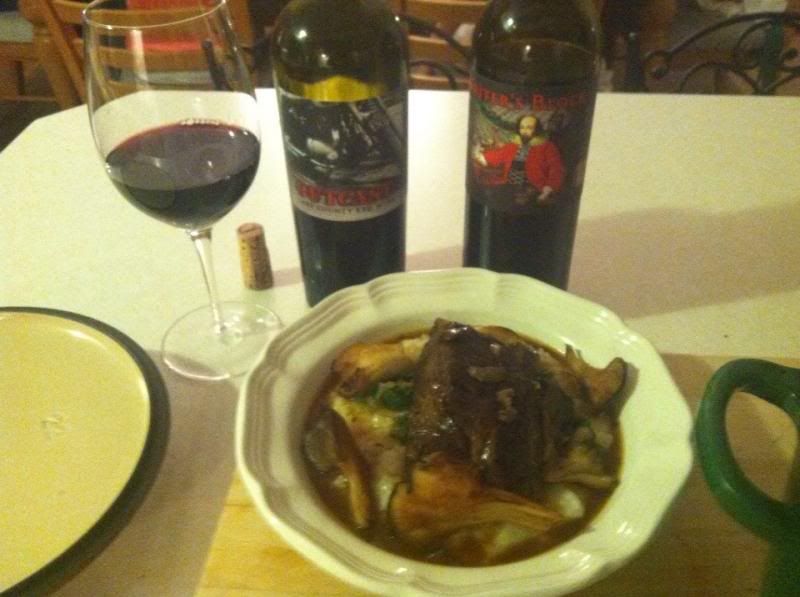 I had two partial bottles of red wines from Steele with me at the end of a long day of sampling retailers so I enjoyed the remnants of both with tonight's most delicious dinner. The
2010 Writer's Block Zinfandel, Lake County
is from an alternate label started by Jed Steele's son a few years ago. (The label has since been turned back over to Jed.) Deep garnet color with brownish hues. Loads of black pepper, leather and earthy spice on the nose. Seems a bit alcoholic for the stated 13.8%. The palate consists of waves and waves of bittersweet cocoa, roasted coffee bean, black tea, and earthy raspberry flavors. Super long, dusty finish. A real departure from your run-of-the-mill overextracted, tooty-fruity California Zinfandel. I just can't get enough of those dusty, raspberry notes! Tannins suggest this one might reward a few years in the cellar. 92% Zinfandel and 8% Petite Sirah. About $16 full retail and a wine I distribute in Kansas.
The other wine my wife and I enjoyed was the
2010 Outcast Red Wine, Lake County
. This decadent wine is a blend of 51% Syrah, 23% Zinfandel, 11% Petite Sirah, 7% Merlot, 5% Malbec and 3% Petite Verdot. Gorgeous ruby color. Deep red and blue fruits on the nose accompanied by hints of licorice and black pepper. Certainly more primary and fruit-forward than the Writer's Block Zinfandel. Seems like the small amounts of Malbec and Petite Verdot become more assertive on the palate with tobacco (Malbec) and graphite (Petite Verdot) on the palate. Constantly evolving, this is one to enjoy over a couple of hours. Nice, long plummy (Merlot?) finish. Delicious and worth every penny of $23. Another wine that I distribute in the State of Kansas.