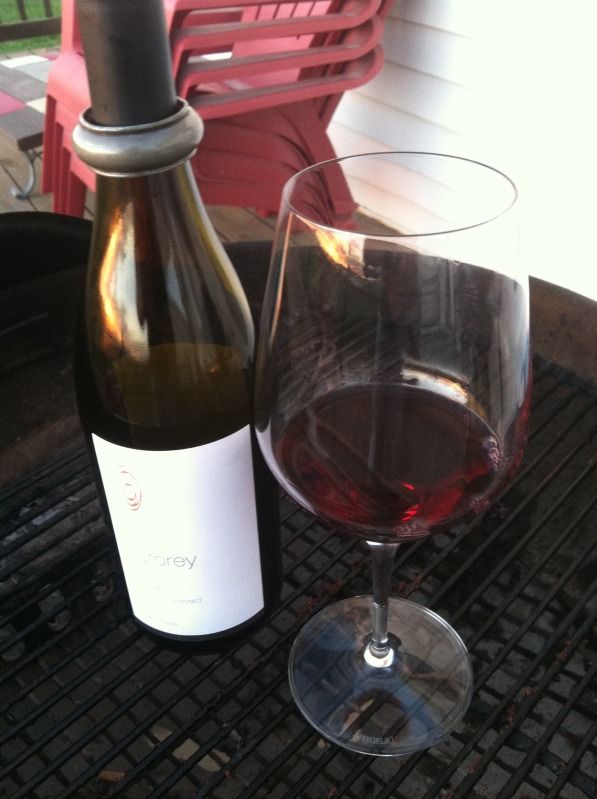 After a long morning and afternoon of talking to the Kansas Department of Revenue and faxing in another Mt. Everest of paperwork, I was ready to ring in the weekend with something smoky, sultry and sexy. So I put a couple of racks of babyback ribs on the smoker and three and a half hours later opened my sample bottle of
2010 J. Storey Carriage Vineyard Syrah, Paso Robles
. Not as dark as I've come to expect from a Paso Robles Syrah bearing 15.2% alcohol, the wine is nonetheless blessed with stunning aromatics of blackberry, pomegranate syrup, black pepper and fragrant Mediterranean herbs. Nicely balanced in the mouth, this is no ponderous, over-extracted milkshake of a wine. Refined, moderate tannins, nice acidity and a long, silky finish complete the package. This is a wine to seek out if you're laboring under the impression that Syrah from Paso Robles is lacking in subtlety and finesse. I'm not sure where the Carriage Vineyard is located in Paso Robles, but I'm guessing it is in one of the cooler microclimates. About $25.
While beautiful on its own, I think the wine was a bit overpowered by the sticky, smoky ribs. Perhaps this was an occasion to open a Syrah from the likes of Terry Hoage or Dunning.
Oh yeah - This was provided free of charge (I did pay for expedited shipping) from the winery as I am considering distributing this wine in the Great State of Kansas.