The arugula is really hitting its stride in the garden, and I wanted to do something to feature it in tonight's meal. So I grilled a couple of extra thick ribeyes to medium-rare and fanned the slices over arugula dressed with kosher salt, black pepper, lemon-infused olive oil and shaved Parmesan. Simple. Beautiful. Perfect. It
should've
been the perfect foil for a Brunello di Montalcino.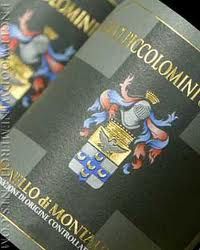 The
2004 Ciacci Piccolomini d'Aragona Brunello di Montalcino
shows pretty typical Brunello color with its washed-out, slightly brownish hue. Nose is initially inviting with classic notes of sweet cherry, dusty earth and fennel seed before taking a turn for the worse with odd soy/Asian spice notes and more than a hint of chili powder. But the most disturbing aspect of this wine is the strange tongue-numbing flavors on the palate reminiscent of camphor-like Szechuan peppercorns. Moderate tannins. The acidity is nicely balanced with what else there is in the bottle. A really bizarre showing for this normally consistent and excellent wine. Sadly, my last of three bottles so there probably won't be any more data points. About $40.