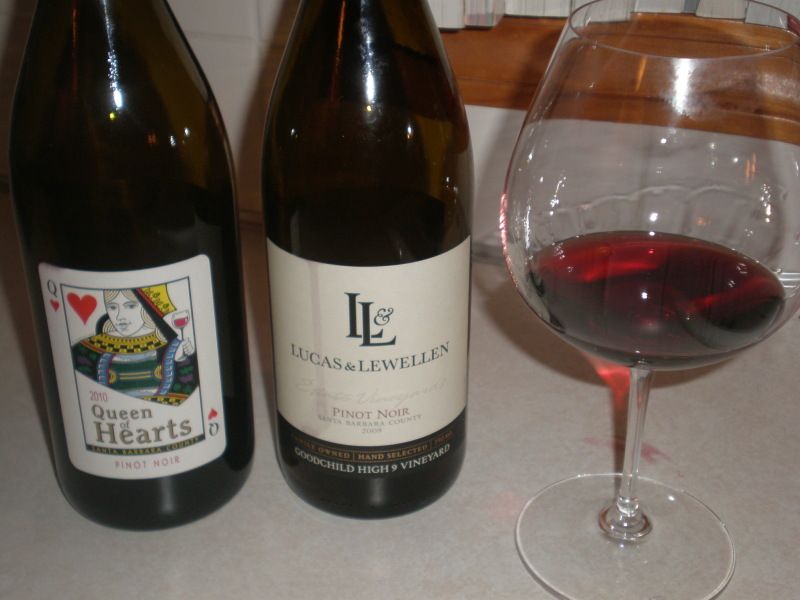 2010 Queen of Hearts Pinot Noir, Santa Barbara County
- This is the entry level label from
Lucas & Lewellen
and it provides plenty of bang for the buck at the $15 retail level. Nice dark color. Nose offers strawberry, black cherry and a bit of resinous rosemary. Quite smooth and harmonious on the palate with black cherry and spice notes and a certain mouth-coating buttery richness. Finishes a bit leafy. I like the fact that this is a $15 wine that carries something higher than a "California" appellation.
Two steps higher in their line-up is the
2009 Lucas & Lewellen Goodchild High 9 Vineyard Pinot Noir, Santa Barbara County
. This one is quite a bit darker and the nose is just that much deeper with the black cherry, sweet earth and minty notes. Astonishing depth. After being open for two days, it still has considerable tannins reminiscent of black tea and leather. Long finish buoyed with nice acidity. Retails in the high-$20 range.
Dinner was a delicious roasted chicken accompanied by a red wine/mushroom pan sauce, steamed broccoli and baked sweet potatoes.
Note: These wines were provided by the producer and I am considering distributing these wines in Kansas.