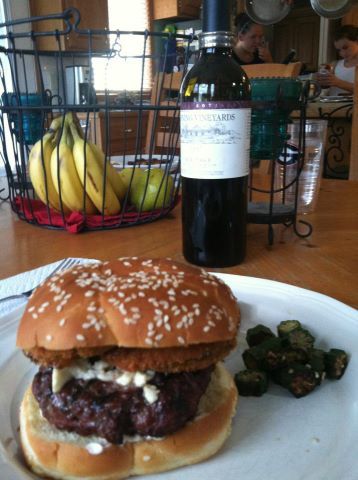 2007 Dunning Vineyards Meritage, Paso Robles
- Color is about as dark as a red wine can possibly be. Really big, rustic blend of 70% Cabernet Sauvignon, 20% Merlot and 10% Cabernet Franc. A farmer's market of black fruits on the nose and palate, but there's no sweetness here as the wine is bone dry and chalky. Lots of dry cocoa powder, Provencal herb and a pleasant green note. Nice long, chalky tannic finish. Pretty sure this could go for another decade. $30 or so.
Enjoyed with a grilled venison burger topped with crumbled feta cheese, fried green tomatoes and hot pepper relish.
And since the grill was still hot, I tried a new way of cooking okra. One of my wife's co-workers said to cut it into 3/4" slices, toss with a little EVOO and s/p and cook it on aluminum foil on the grill. It didn't quite have the decadence of fried okra that is so dear to my Southern heart, but it was very, very tasty, quick and (I suppose) healthier than deep-fried. Definitely have to try that again soon.