Our garden is abundant with herbs right now so I took the opportunity to plan a meal around them. I made a large batch of pesto and tossed most of it with rotini pasta. The rest I thinned out with additional olive oil and drizzled over thick slices of tomatoes. The main course was chicken that I rubbed all over with rosemary and minced thyme, rosemary, oregano and basil before grilling over charcoal. Everything was very Mediterranean and very delicious.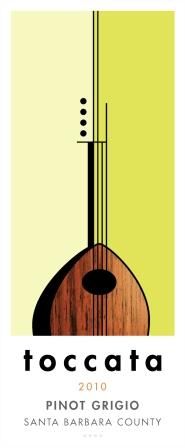 2010 Toccata Pinot Grigio, Santa Barbara County
- Very pale color with some light green highlights. Nose of lemon peel, green seedless grape, jasmine flower and just the faintest trace of yeasty, fermentation aromas. Crisp and clean in the mouth with tart lemon, pear peel, mineral and a pleasant bitterness. Clearly the antithesis to the sweeter "California" style of Pinot Grigio that frequently hails from the West Coast. Serious, bracing acidity is tremendous with the rotini as well as the tomatoes drizzled with pesto oil. $16
2009 Toccata Classico, Santa Barbara County
- Pretty, medium ruby color. Rather monolithic nose of sweet cherry with some light "woodsy" notes of oak, hickory and vanilla. On the palate, the cherry fruit turns a bit tart with lots and lots of leathery, earthy flavors. Searing acidity begs for food and it's quite nice with tomatoes drizzled with a bit or pesto oil. Turns a bit green on the finish. Negligible tannins. A blend of 50% Sangiovese, 35% Cabernet Sauvignon and 5% each of Cabernet Franc, Merlot and Freisa. Damn nice with a piece of after-dinner dark chocolate, too! $20
Disclaimer: These wines were provided free of charge from the winery and I am considering distributing these wines in Kansas.