2008 Austrian Pepper Gruner Veltliner, Niederosterreich
- Just lovely. Beautiful nose of green apple, candle wax and petroleum. Palate mimics the nose with waxy, floral, orchard fruit notes and electrifying acidity. Texturally pleasing with a zippy, peppery finish that nips the tip of the tongue. Normally $15, marked down to a
ridiculous
$3.
2006 Pirathon Shiraz, Barossa
- Super dark color that stains the glass as swirling subsides. Loads of Bourbon, licorice, smoke and black fruits on the nose and palate. Quite concentrated, yet nicely balanced by the acidity and tannins. Probably appealing to fans of this style, but not my thing. Regularly $26, marked down to $7.
2009 Chateau de Segries, Cotes du Rhone
- Still over-delivering delicious raspberry-laced Grenache fruit and black pepper with undertones of earthy barnyard. Moderate acidity and tannins tell me this needs to be drunk soon. One bottle left in the cellar that won't be there much longer. Great with
Coq au Vin
. $13
2009 The Dreaming Tree Crush Red Wine, North Coast
- Effusive blueberry and black pepper on the nose and palate here with a good bit of residual sugar. Finishes with a long, green, bay leaf-like note and drying tannins. A blend of 67% Merlot and 33% Zinfandel. A project of Dave Matthews and Steve Reeder, winemaker at Simi. Nothing complex here, but would make a nice partner for a burger or pizza. Very similar in style to the jammy
Apothic Red
. About $12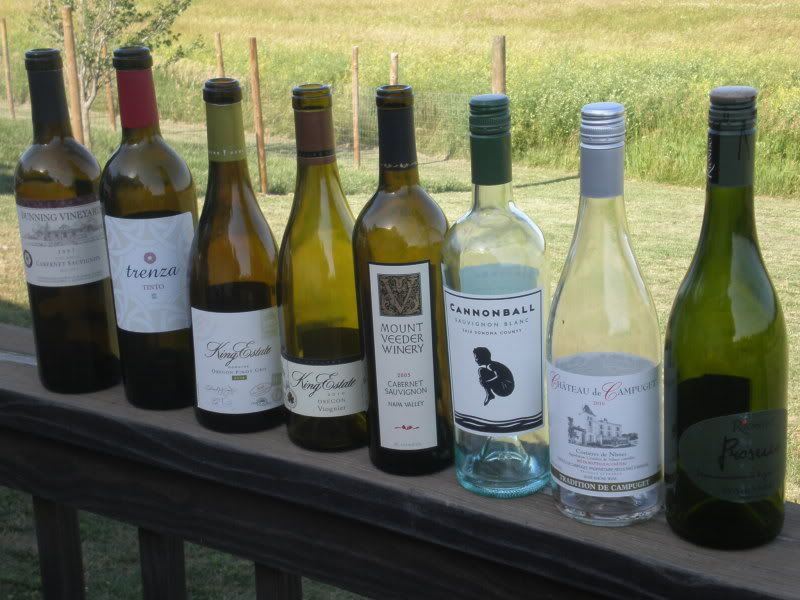 Last night (Sunday) was our 2nd Annual Memorial Day Paella Feast. We invited a couple of friends over to enjoy paella and wine with us and my wife's father. We offered two paellas: my father-in-law's cooked indoors with venison sausage and a myriad of shellfish (oysters, clams, shrimp, crawfish) and mine cooked outside over an open fire with chorizo, chicken and green beans. Both were delicious. With the two paellas we enjoyed a true embarrassment of riches. Notes are brief as I wrote them from an admittedly fuzzy memory on Monday morning:
NV Riondo Spago Nero DOC Prosecco
- Drinking as deliciously as ever. Light and fizzy with intoxicating pear and ginger notes. Goes down
way
too easily. $10
2010 Cannonball Sauvignon Blanc, Sonoma County
- Very different from previous bottles, yet still very nice. The sweet, peachy fruit was AWOL last night, replaced by lemony, mineral flavors. My friend Alex said "Very French in style." Pleasantly herbaceous. About $12
2010 Chateau de Campuget Tradition de Campuget rose, Costieres de Nimes
- How lovely was this bone dry blend of 70% Syrah and 30% Grenache? Pale pink in color with juicy red berry and light underbrush flavors. $6? Are you kidding me? I could drink this all summer long.
2005 Mount Veeder Winery Cabernet Sauvignon, Napa Valley
- Mount Veeder Winery's Cabernet Sauvignon was one of our original "splurge" wines when my wife and I were dating in the early 90s. Every once in a while we'd drop $20 on an '87 or '90. I was delighted to see our friends (and business partners) Chris and Janice bring a bottle of '05. Deep color with even deeper notes of tart blackberry and cocoa with monstrous tannins that beg for another 5-10 years in the cellar. About $30
2010 King Estate Signature Collection Viognier, Oregon
- All of the rich, floral, peachy notes one could ever want from a domestic Viognier. Widely available and imminently gulpable.
2008 King Estate Domaine Pinot Gris, Oregon
- Easily the best domestic Pinot Gris I've ever had. Layers of yeast, mineral, orange-tinted fruit and an incomparable richness. A truly stunning Oregon Pinot Gris available only at the winery. As good as it is, $40 is rather steep.
2008 Trenza Tinto, San Luis Obispo County
- 35% Syrah, 31% Grenache, 22% Tempranillo and 12% Mourvedre. Seems to have shed most of its youthful fruit. An undistinguished showing.
2007 Dunning Vineyards Cabernet Sauvignon, Paso Robles
- Massive and powerful, the licorice, cocoa and sweet French oak flavors were overshadowing the dark black fruits last night. Always a pleasure....