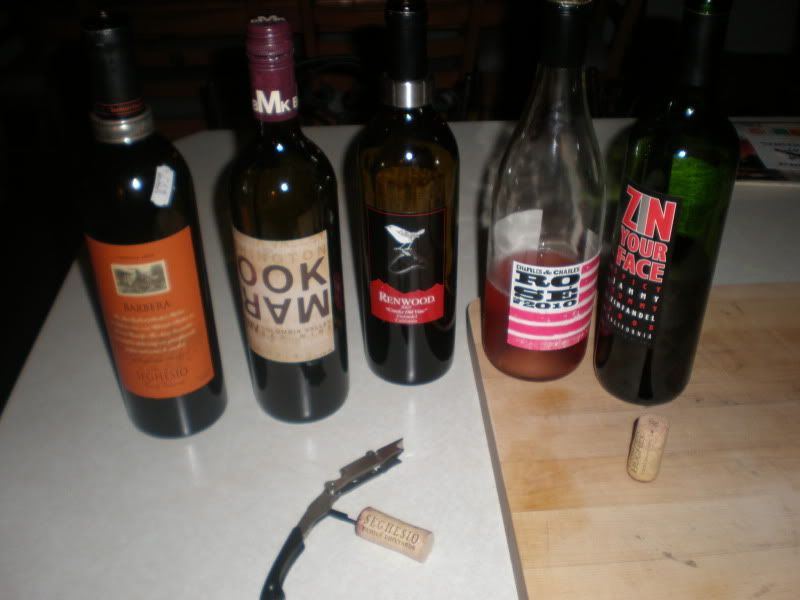 2008 Cameron Hughes Zin Your Face Zinfandel, California
- The label claims this wine is "spicy, jammy and yummy." Well, I'll give it the "jammy" bit, but that's about as far as I can go. Borderline sweet with the jammy, raisiny aromas and flavors, but that's about it. A bit alcoholic and harsh on the finish. Not a bad wine for $10, but doesn't really do anything to distinguish itself from a sea of average wines.
2007 Renwood Cranky Old Vine Zinfandel, California
- Light in color, aroma and flavor. Merlot-like in its mediocrity with the light, stemmy, cherry notes and nonexistent finish. Seems really unripe. My father-in-law says this is regularly priced at $17, but he purchased it on closeout for $8. It
might
be worth the $8.
NV Bookwalter Winery Bookmark, Columbia Valley
- This multi-vintage blend is mostly Merlot with lesser percentages of Cabernet Sauvignon and Syrah. There's a lot of plummy fruit in here, but it's buried underneath an avalanche of hickory-scented campfire oak. Substantial fruit, but little complexity or tannins here. Finishes a bit green. About $10
2008 Seghesio Barbera, Alexander Valley
- Deep color. Rather bizarre nose of graham cracker, raspberry and licorice. (I think it's the graham cracker that's throwing me off here.) Lots of tart raspberry and licorice on the palate with substantial tannins. Delicious with venison meatballs in tomato sauce over pasta, but the significant acidity makes it a little difficult to enjoy on its own. Regularly $20, but purchased on closeout for $9. Highly recommended with food, even at the regular retail price.
2010 Charles & Charles Rose, Columbia Valley
- This 100% Syrah rose continues to impress with its deep color and concentrated mint, strawberry and cherry nose and palate. Bone dry with prickly acidity, this is a pleasure to enjoy at a summer cookout. I've enjoyed numerous vintages of this wine and wouldn't hesitate to recommend it under any circumstances. $10