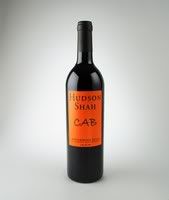 Opened this one tonight just for the hell of it. It's one of the
Wine of the Month
wines at work and I'm duty-bound to try them so I can talk about them with out wine club members. Yep, it's a tough job...but someone's gotta do it!
The
2007 Hudson Shah Cabernet Sauvignon, Rattlesnake Hills
has quite a decent color for a wine in this price range. Pleasant nose of light red fruits and mocha with an unexpected note of new leather. On the palate, it is medium-bodied with sweet/tart red fruits like cranberry, strawberry and cherry. Although aged in both American and French oak, it's the slightly dilly American oak that becomes more prominent the longer it gets air.
Medium-bodied with moderate tannins and acidity, I don't think this one will get any better with time in the cellar. Enjoy now for under $15.