Homemade pizza night always calls for a wine that can stand up to a trio of bold pizzas. I had some leftover
2010 Queen of Hearts Sauvignon Blanc, Santa Barbara County
to go with the salmon, melted leek and fresh chive pizza. This is a wine I distribute and I really enjoy it for it's light body and lemony acidity. A great value at $12.
I always make a pepperoni pizza for my son who hasn't quite embraced the "fancy" pizza concept yet. But I have to admit to scarfing a piece or two every now and then as well. Sometimes, you just can't ignore the classics! The other pizza I made this evening featured leftover rotisserie chicken, goat cheese, radish slices and baby arugula tossed in a light vinaigrette. I know this sounds like a train wreck, but it really is delicious.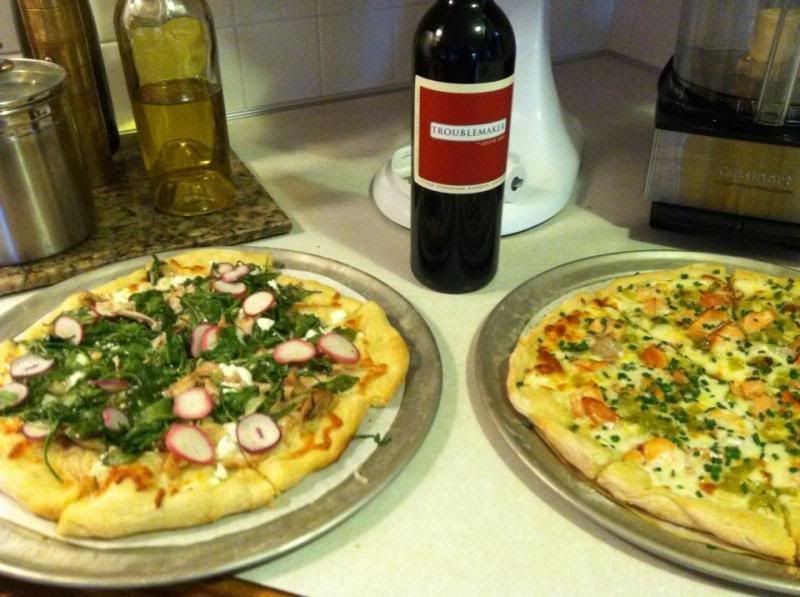 To go with the last two pizzas I opened my last bottle of
NV Austin Hope Troublemaker (Blend 4), Paso Robles
, a blend of 67% Syrah, 22% Mourvedre, 8% Grenache and 3% Petite Sirah. Super inky-black in the glass, this wine is all about sweet, hedonistic, grapey, primary fruit notes. There's a little dusty earthiness and acidity lurking in the glass to provide just enough balance to the sweet fruit. But make no mistake, this is all about the guilty pleasure known as Paso Robles red wine. No tannins to speak of so drink this up now with something appropriately spicy without deep analysis or pretension. I think this was about $18 before discount.
Disclaimer: I distribute the Queen of Hearts Sauvignon Blanc, but I have no business interest in Hope Family Wines.