To hell with it. I'm going to go ahead and start blogging about the wines I sell here. I'll just make sure that I disclose the information so that there is no conflict of interest. And since I'm technically paying for all of these wines anyway, I don't feel bad tasting and reviewing them here.
A few months ago we brought in a few wines from
Cowan Cellars
for a restaurant looking for a high-end Sonoma Coast Pinot Noir. The consultant actually asked us to bring the wines from Radio-Coteau into Kansas, but the winemaker there balked at the idea of working with an upstart distributor. So I suggested Cowan to the chef-consultant and he was good with the idea. Everyone involved loved the wines (we pitched the Pinot Noir and Syrah) so we worked them onto the restaurant list. Unfortunately, the restaurant has been in a constant state of turmoil and upheaval since opening. The manager was canned last month and I heard today that the head chef was leaving. The upshot is the restaurant hasn't gone through as much of this limited release wine as we had hoped so I took it around to retailers today trying to gin up some interest.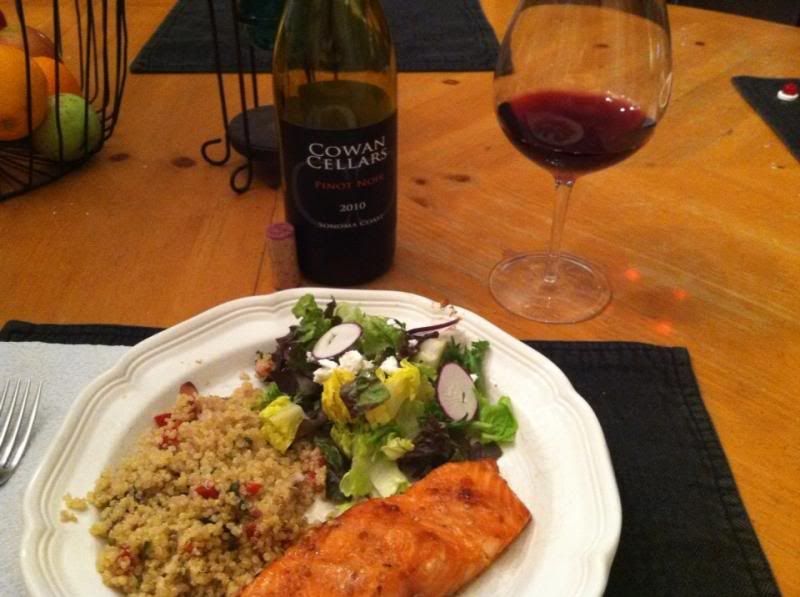 As is usually the case, I'm left with 1/2 to 2/3 of a bottle at the end of the day so I wind up drinking it with dinner. And tonight's dinner was perfect with the wine. The
2010 Cowan Cellars Pinot Noir, Sonoma Coast
is as far from a California fruit bomb as you will ever encounter. Burgundian in nature, the color is rather light with expressive damp earth, mushroom, truffle and cherry compote on the nose. The palate reinforces the cherry-scented nose with the subtle addition of vanilla and sweet bay leaf accents. The wine sees no new oak and the alcohol is a very manageable 13.9%. The acidity is perfect with a fatty, farm-raised salmon filet marinated in teriyaki sauce and grilled to a perfect medium-rare. the earthy finish seems to go on forever and ever. Not cheap at $30, but worth every penny.
After my wife and I drained the remaining Pinot with dinner, we dove into the last of the
2010 Cowan Cellars Moaveni Vineyard Syrah, Bennett Valley
. If Cowan's Pinot Noir can be described as "Burgundian," his Syrah is pure northern Rhone. Deep cranberry color, but no freakish extraction here. The nose is complex as anything I have ever encountered from a California Syrah with wintergreen, white peppercorn, summer sausage, tar and blackberry all mingling in the nostrils. The palate speaks of cool climate Syrah with preserved meat, blackberry, pepper and moderate tannins. The alcohol on this one is an incredibly restrained 13.2%. I dare you to find another California Syrah sporting a number this low. Once again, impeccably balanced with an impossibly long finish. About $28.
Although I have never met him, I feel like I have known "Florida Jim" Cowan for years now as we have been reading each others tasting notes and exchanging e-mail since the mid-90s via the the old Wine Spectator message boards and the discussion forum at www.WestCoastWine.net. Hopefully, I can talk Jim into bringing his talent to the Kansas City area some day for a wine dinner or in-store tasting.