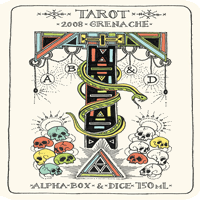 Just a quick update on the
2008 Alpha Box & Dice Tarot Grenache, South Australia
. Followers of my blog know I've consumed well over a case of this wine and I've gone so far as to call it the greatest sub-$15 bottle of wine I've ever had. Seems like it's been a year or so since I've had this wine and I thought it would make a nice pairing with a grilled pork tenderloin rubbed with Asian spices - and it turns out I was right. Still shows a beautiful, deep color. As it is shedding some of its youthful fruit and baby fat, it is moving away from the simple, sweeter raspberry notes and developing more complex raspberry notes with earthier, mushroomy aromas. Still rather fruit-forward on the palate with raspberry and vanilla bean flavors, but you can tell there's more depth and density now and an earthiness that wasn't present a year ago. Beautiful finish still goes on forever and ever. Tannins are negligent and the acidity provides nice balance. Not sure where this is heading as it moves into another phase of its life so I would recommend drinking sooner rather than later. I have one left in the cellar and I might keep it for a few years just to see what happens.
I just can't say enough good things about Justin Lane and the stunning, quirky wines he makes at
Alpha Box & Dice
. Although Grenache is nothing new to Australia, I challenge you to seek out some of his blends incorporating Dolcetto, Nebbiolo, dry Muscadelle, Barbera, Sangiovese and other varietals unique in Australia.