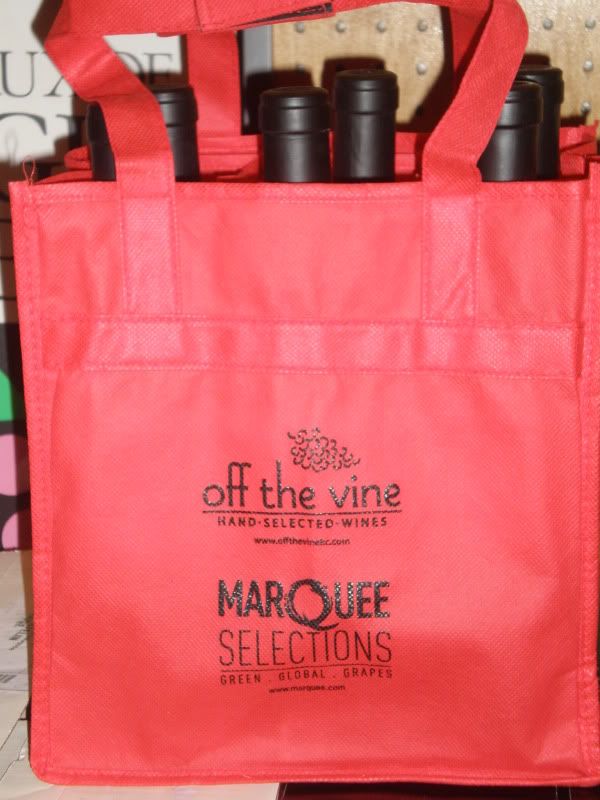 Marquee Selections
is a Kansas City, MO based importer that specializes in wines from organic, biodynamic and environmentally-friendly wineries. As April is earth Month, the retailer I work for is featuring a number of wines from Marquee for our Wine of the Month club. I've sampled a couple of these wines over the past two weeks
Saturday's dinner was an improvised "clean out the refrigerator" pasta dish featuring smoked chicken, grilled asparagus, shaved red onion, garden fresh chives, a dollop of heavy cream tossed with
campanelle
(trumpet-shaped pasta). To accompany, I opened the
2010 Caligiore Pianissimo Malbec rose, Mendoza
. The deep ruby color immediately lets you know this is a new world style rose with plenty of body. Wonderful notes of juicy raspberry and red grapefruit with a nice peppery finish. Bone dry. Mouthwatering acidity leaves you lusting for the next sip. Beautiful with the food and easy on the wallet at under $10. Made from organically grown grapes.
Another wine made from organically grown grapes imported by Marquee is the
2010 Caligiore Staccato Malbec Cabernet Sauvignon, Mendoza
. This blend of 60% Malbec and 40% Cabernet is bright ruby in the glass and literally explodes with plummy, black pepper aromas. The palate is weightier than the nose would suggest with sweet-tart raspberry notes, pipe tobacco and a very pleasant, slightly bitter tar component that had me thinking of a nice Chianti. Tannins are firmer than I would have guessed for an entry level blend of this nature. Another nice value in the under $10 market and paired quite well with grilled pork tenderloin with chimichurri.
The
2011 Caligiore Grazioso Torrontes, Mendoza
was our wine of choice for Sunday's fish tacos; a favorite food and wine pairing of mine. The wine is quite clear in the glass with amazing aromatics of gardenia and freshly-grated orange zest. Secondary aromatics include fresh-cut grass and lemon. The palate doesn't seem quite as expressive as the nose as the orange zest and alcohol really kick in (almost like doing a shot of Cointreau). Stated alcohol content is 13%, but it seems higher. Very light and delicate in style, crisp and acidic. Lacks the viscosity of some of my favorite Torrontes from the likes of Crios, Sur de los Andes and Rutini. But for under $10, I'm not complaining. From organically grown grapes.
The antithesis to the tooty-fruity, oak-driven Argentine Malbec is the
2010 Caligiore Reserve Malbec, Mendoza
. The bowl of the big Riedel Bordeaux glass is immediately filled with Rhone-like aromas of tart raspberry, cracked black pepper, Provencal herb and a hint of meatiness. The tart raspberry continues through on the palate of this elegant, restrained, dare I say
austere
Malbec. Tons of dry cocoa powder, green tobacco and black peppercorn also vie for attention. The severe acidity and tannins are impeccably balanced on this one and the finish goes on forever with, once again, the tart raspberry and cocoa notes. At $15, this old world style wine really separates itself from a sea of generic Malbec. No surprise that it was enjoyed with a grilled flank steak with chimichurri sauce and grilled garden-fresh asparagus. From organically grown grapes.
As much as I liked the Caligiore Reserve Malbec, though, I have to question why a winery who prides itself on being organic and "Earth-friendly" insists on individually wrapping its bottles in tissue paper before loading them into cardboard cases. Seems like a really needless waste of reams and reams of paper. I understand that fine wines used to come wrapped in paper as a way of protecting the labels during long term storage in dank, humid caves and cellars. But is this really the case today? Somehow, I doubt it. I think it's much more a marketing gimmick and a practice I think a self-professed "green" winery would want to avoid. Stepping down off of my soapbox now.....