We spent the holidays in St. Louis with my wife's family. While there, we hit up one of the local Schnuck's grocery stores that was having a clearance sale on a number of wine selections. My father-in-law, brother-in-law and I really cleaned up purchasing 6 or 7 cases. Some of the wines in this report came from that purchase. Others I'll try later and report on. The prices there were approximately 50% off retail and they took another 10% off if you bought 6 bottles (snicker). My favorite purchases were 4 bottles of 2008 Seghesio Barbera for $9 each and a lonely bottle of Domaine de Baumard Cremant de Loire
Carte Turquoise
for $10.
Anyway, here are some of the highlights and lowlights of the last week:
2007 Alto Moncayo Garnacha, Campo de Borja
- fabulous nose of black and red fruits, spice and hints of meat and menthol. Alcoholic. Some Bourbon/American oak comes out, but only after extended time in the glass. Sadly, the palate isn't quite as dynamic with its tart raspberry fruit and spice. Ferocious tannins and acidity. Could this one age? Regularly $45 (yikes!) on closeout for $20.
2010 667 Pinot Noir, Monterey
- Super sweet, almost candied cherry nose. Borderline overripe and negligible tannins and low acid. A simple, refreshing, quaffing style Pinot Noir. $10
2008 Ramspeck Cabernet Sauvignon, Napa Valley
- Nice balance of sweet/tart cherry fruit and oak notes with nice bit of smoky bacon and graham cracker in there, too. Good tannins, acidity. Long finish accentuates the mouth-watering acidity. Solid effort. Price unknown.
2008 Bogle Vineyards Phantom, California
- Old Vine Zinfandel, Petite Sirah and Old Vine Mourvedre. Charred blackberry with considerable mineral/wet stone character. Mouth-filling with nice acidic structure, but not quite as tannic as I had expected. Turns a bit bitter on the finish. I used to love this wine, but now I'm not so sure. About $17
2009 Avante Mencia, Castilla y Leon
- Wow. Just way too much poopy diaper for me. Sorry, not my cup o' feces. Not even worth the $6 closeout tariff.
2010 Apotheic Red Blend, California
- This winery's advertising keeps showing up on my Facebook page, but the wine isn't available in Kansas. Saw it marked down from $15 to $10 at a St. Louis area grocery store and decided to take a chance on it based on the blend. Might be a bit on the tooty-fruity side, but this blend of Zin, Syrah, Cab and Merlot shows a lot of depth with its blueberry and coffee flavors. My idea of a good wine for burgers or pizza. I ended up buying 8 bottles.
2008 Dunning Vineyards Chardonnay, Paso Robles
- From my father-in-law's stash. Quite frankly, a bit lighter than I had expected. Light color. Thin palate, lemony, waxy flavor and texture with a bit of earthy mushroom. Great acidity and a not-so-great sulfuric finish. The acidity is the wine's saving grace and it makes for a nice pairing with seafood risotto. Unique, but I think I'll stay in the "all red" club for my Dunning shipments.
2001 Casisano-Colombaio Brunello di Montalcino
- Just an amazing nose of dusty cherry and freakish fennel bulb. Hint of smoked tea in there, too. Medium-bodied with more dust and crazy licorice on the palate. Nicely balanced acidity and tannins. Ready to drink right now, but could probably hold for another 5-10 years. Thoroughly enjoyed this one with braised chuck roast with porcini sauce over soft polenta.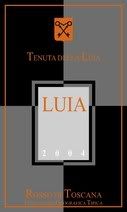 2003 Tenuta Luia Luia, Rosso di Toscana
- Wow, what a difference a night made with this one. Didn't hold my interest at all during dinner as it was simple and dusty with hardly any discernible features. On day 2 with heavy appetizers, it shows decadent blue and black fruits, hickory-scented wood and anise. Rally thick and unctuous texture. Guess we should've decanted this one before dinner, huh?. Still, a bit pricey at $60
2006 le Clos du Caillou Cuvee Unique, Cotes du Rhone
- Beautiful old vine declassified Chateauneuf-du-Pape here. All the deep red fruits and herbs de Provence One expects from a wine like this, but with some really intense, dry chocolate flavors, too. Raspberry finish goes on forever. Throwing considerable sediment. Good value at $25.